SWB605/SWC615 PowerMount Weigh Modules
PowerMount compression weigh modules for conversion of tanks, hoppers and conveyors into a scale.
SWB605/SWC615 PowerMount Weigh Modules
METTLER TOLEDO weigh modules enable the quick and safe conversion of a tank, vessel, silo, hopper, conveyor or structural systems into a scale. Bui...

METTLER TOLEDO weigh modules enable the quick and safe conversion of a tank, vessel, silo, hopper, conveyor or structural systems into a scale. Built-in side-load and anti-lift protection ensure that safety, performance and precision are maintained. METTLER TOLEDO weigh modules are used in food, pharmaceutical and chemical applications. They are available in various versions depending on the application and environment to meet requirements of OEM machine manufacturers, system integrators and end-users. Weigh modules incorporate SafeLock for fast and safe installation. The weigh module is locked and acts as a solid block protecting the load cell from overload during installation. No need to buy expensive dummy weigh modules. A wide range of accessories are available for weigh modules including stabilizers for use with aggressive mixers and agitators, thermal pads to isolate from conducted heat and shock-vibration pads to dampen shock and vibration. Dead stands for level-control applications are also available.
METTLER TOLEDO offers a wide range of weigh modules from 5kg up to 300t capacity. Weigh modules are available in painted steel, zinc plated steel, 304 (1.4301) stainless steel and 316 (1.4401) stainless steel electro-polished. They are available in various legal-for-trade accuracy levels according to OIML R60 and NTEP HB44 starting from OIML 3000e (OIML C3), NTEP 5000d, OIML 6000e (OIML C6), NTEP 10000d to finally OIML 10000e (OIML C10). Weigh modules are available for hazardous area application and are approved according to ATEX, FM (Factory Mutual), cFM (Canada), IECEx and NEPSI. They meet protection classes IP67, IP68 or even IP69K. Weigh modules are available in EN1090 versions made in specially controlled and documented manufacturing process for high safety requirements. Weigh modules support the weightless calibration CalFree or even CalFree Plus allowing for tank calibration on a fingertip.
PowerMount weigh modules allow for diagnostics down to the load cell level, alarm the user in case of a failure and enable quick fix of problems. RunFlat allows simulation of failed load cell to continue production for minimal downtime.
Hygienic weigh modules certified to NSF, GMP and following the design criteria of EHEDG are also available. These are self-draining, mirror-polished and avoid metal-to-metal contact for minimal contamination risk.
Load Cell Diagnostics
To avoid bad batches and provide maximum uptime PowerMount weigh modules monitor individual load cells "real time" and provide alarms in case of a failure.  Load cell overload, drift and system symmetry are constantly monitored and logged.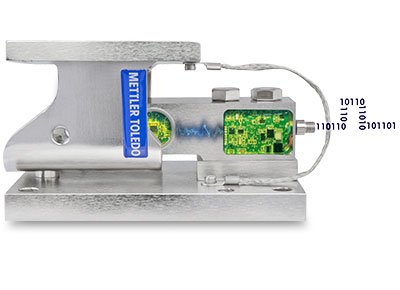 Highest Accuracy
For the highest product quality with minimum waste PowerMount Weigh Module PowerCells are available up to OIML 10000e, C10 accuracy level; three times more accurate than typical industrial load cells.  The built-in microprocessor compensates temperature, creep and linearity effects continuously - far beyond what analog load cells can achieve.
The product features
Capacity range 110kg .. 300t (220lb .. 660klb)
Materials: Zinc Plated, 304, 316 stainless steel
Accuracy: OIML C3, C6, C10 NTEP 5.000d, 10.000d
Hazardous Approvals: ATEX, IECEx, FM, cFM, Nepsi
ATEX/IECEx Zone1&21 ; FM Div1 approval
IP68/IP69K Protection Class
Demo Video: PowerMountTM Weigh Modules
Watch this quick video outlining the main differences of PowerMount™ weigh modules – utilizing POWERCELL® technology – compared to traditional analog weigh modules.  This hands-on demonstration includes graphics that show how alerts help to avoid downtime and bad batches. The video covers five key functions of PowerMount™ Weigh Modules, including:
Missing or malfunctioning load cell alerts
Out of range temperature alerts
Overloading alerts
Symmetry status alerts
RunFlat function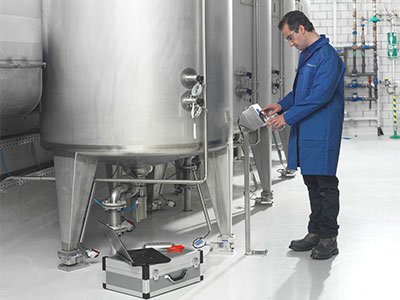 CalFree Plus - Weightless Calibration
PowerMount Weigh Modules support CalFree Plus, weightless calibration on a fingertip.  Compared to analog CalFree this method is more accurate with no risk of human calculation error . CalFree Plus even compensates for local gravity effects.  The PowerMount system has no junction boxes or cable effects to negatively impact accuracy.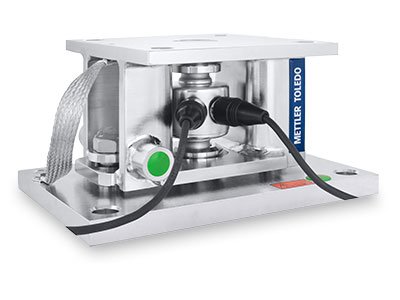 Built-in Safety Features
All safety features like Lift-off Protection, 360° Checking, and Safety-Downstops are integrated. Therefore it does not matter, for the safety of the system, how the weigh modules are orientated.  Even if a load cell breaks due to extreme overload from excessive wind, earthquakes or other external cause;  the vertical Downstops provide a secondary support system.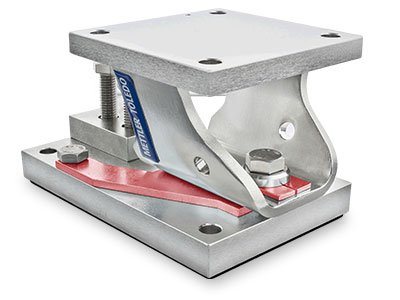 Installation Made Easy
SafeLock(TM) locks the Weigh Module during shipment and installation. This feature protects the load cell from overload and maintains proper mounting plate alignment during installation.  No need to purchase expensive dummy blocks. The Weigh Module can even be installed without the load cell to totally rule out the risk of load cell damage during installation.
Documentation
Accessories
The Right Accessory for each Application
Weigh Modules can be adapted to applications by using specific accessories:
Stabilizers to stabilize signal on tanks with aggressive mixers
Thermal Pads to isolate load cells from conducted heat
Shock/Vibration Pads to isolate load cells from shock/vibration
Spacer Plates allow Weigh Module servicing without lifting tank
Tools such as a jacking device to ease load cell installation
Dummy Load Cells, passive WM for level control applications
Mar 30, 2020
Mar 30, 2020
Mar 20, 2020
Mar 20, 2020
Dec 24, 2019
Jun 18, 2018
Feb 01, 2018
Jan 25, 2018
Dec 20, 2017
Dec 19, 2017