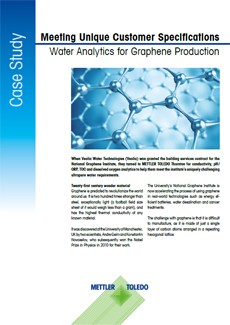 Pure Water Analytics
Veolia Water Technologies (Veolia) was granted the building services contract for the National Graphene Institute and turned to METTLER TOLEDO Thornton for conductivity, pH / ORP, TOC and dissolved oxygen analytics. It required METTLER TOLEDO to help it meet the institute's uniquely challenging ultrapure water requirements.
Veolia needed to develop a cutting-edge system to meet its customer's demanding specifications. For measurement technology, it was looking for a supplier with a history of solving challenging technical problems. It chose METTLER TOLEDO for its strong reputation for precise and reliable measurement of multiple key UPW parameters, and due to the long history of successful partnership on UPW projects.
Read in the full story how METTLER TOLEDO supported Veolia.
 
METTLER TOLEDO and Veolia installed 10 analytical water measurements, monitored and controlled by just three transmitters.
For meeting the most demanding conductivity specifications, five UniCond®, digital, wide-range, conductivity sensors were used. UniCond conductivity sensors can measure from ultrapure water all the way up to seawater with high accuracy. The built-in measuring circuits and analog to digital signal conversion, enables performance far exceeding that of conventional sensors.
Additionally, METTLER TOLEDO and Veolia installed one 5000TOCi total organic carbon sensor with a low-ppb calibration. It uses proven ultraviolet (UV) oxidation with differential conductivity to effectively determine TOC concentrations.
Further, two optical dissolved oxygen sensors were installed, offering highly accurate O2 measurement with enhanced signal stability, and two pH / ORP sensors, which ensure reliable pH measurement for pure water analytics. All of this was controlled by only three M800 multi-channel, multi-parameter transmitters.