X37 Series – X3750
Reliable Glass-in-Glass Inspection.
The X3750 performs the inspection of glass containers at high line speeds of up to 800 products per minute, ensuring outstanding detection sensitivity of physical contaminants in jars that are up to 130 mm in diameter.
Unrivaled Inspection Results
The X3750 offers optimum X-ray beam geometry, removing all inspection blind spots and resulting in unrivaled glass-in-glass inspection of jars.
Reaching Outstanding Detection Levels
Your brand reputation is maintained at all times, as our unique ContamPlusTM X-ray inspection algorithms optimize detection levels with each process.
Supporting Uptime
Adjustable full-length guide rails facilitate quick and easy product set-up and consistent product presentation to the X-ray system.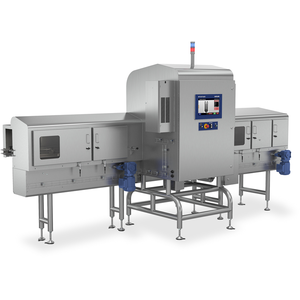 Product Family:XRInspection00040020
Specifications - X37 Series – X3750
Brand Protection

Outstanding glass-in-glass inspection
Compliance

Support FSMA and all GFSI codes including BRC & IFS
Ease of Use

High performance x-ray software can reduce the need for manual adjustments and the potential for human programming errors
Increased Productivity

World class reliability and OEE reporting
Conveyor Speed (dependent on product dimensions)

10-100 m/min
X-ray Detector Width and Diode Size

0.8mm diode size
Industry

Personal Care
Pet Food
Pharma
Beverage
Food
Nutraceuticals

Number of Lanes

Single lane
X-ray Generator

420W (84kV, 5.0 mA Glass Tube)
X-ray Beams

Single beam
X-ray Emissions

< 1uSv/hr
Reject Type

High speed short stroke pusher
Cooling Method

Air Conditioner & Radiator Pump
Operating Temperature

5 °C - 40 °C
Power Supply

100 - 120 Vac, 1 phase, 50-60 Hz, 16 A max
208 - 240 Vac, 1 phase, 50-60 Hz, 10 A max

HMI

15.6" LED Touchscreen display (16:9 aspect ratio)
IP rating

IP65 as Standard
IP69 available

Product Type(s)

Tall Rigid Containers
Packaging Material

Glass
Throughput Rate (dependent on product dimensions)

Up to 800 ppm
Material Number(s)

30541248
Conveyor Speed (dependent on product dimensions):10-100 m/minConveyor Speed (dependent on product dimensions):10-100 m/minIndustry:Personal Care;Pet Food;Pharma;Beverage;Food;NutraceuticalsIndustry:Personal CareIndustry:Pet FoodIndustry:PharmaIndustry:BeverageIndustry:FoodIndustry:NutraceuticalsNumber of Lanes:Single laneNumber of Lanes:Single laneHMI:15.6" LED Touchscreen display (16:9 aspect ratio)HMI:15.6" LED Touchscreen display (16:9 aspect ratio)IP rating:IP65 as Standard; IP69 availableIP rating:IP65 as StandardIP rating:IP69 availableProduct Type(s):Tall Rigid ContainersProduct Type(s):Tall Rigid ContainersPackaging Material:GlassPackaging Material:Glass
Protecting Products at High Speeds
The X3750 is capable of inspecting and rejecting up to 800 products per minute and can match your production speeds, ensuring manufacturing capabilities are maximized and faulty products are removed from production.

Upholding Brand Integrity
In addition to the detection of physical contamination, the X3750 can also inspect for accurate fill levels and perform a range of product quality checks to identify sub-standard products.

Proving Due Diligence
View windows and illuminated tunnels increase visibility throughout the system and aid reject set-up, thereby demonstrating due diligence.

Achieving Hygiene Compliance
The X3750 encompasses the highest level of hygienic design with IP65 as the standard and an upgrade option to IP69.

5-Year Generator Warranty
Minimize your downtime and protect the most valuable and expensive part of your inspection system, the x-ray generator, for 5 years when you purchase it with a Standard or Comprehensive Care Package.

Global Service Support
A global network of service experts provide fast remote and on-site support. Our comprehensive service offering allows you to achieve regulatory compliance, high performance, and maximum uptime throughout the life cycle of your product inspection equipment.

Enhancing Production Data Visibility
Ensure the highest levels of regulatory compliance through real-time data collection. ProdX, our PC-based software, constantly monitors and fully documents all production parameters, quality incidents, user interactions and performance verification routines.

Documentation