Chemical Synthesis Reactors
Replace Round Bottom Flasks With Chemical Synthesis Reactors
Chemical Synthesis Reactors

Exchange jacketed glass reactors, round bottom flasks, chillers, oil baths, and ice baths with innovative chemical synthesis reactors. Che...


Exchange jacketed glass reactors, round bottom flasks, chillers, oil baths, and ice baths with innovative chemical synthesis reactors. Chemical synthesis reactors enable personal productivity and more experiments to be performed through:

Unattended Experimentation for 24/7 Planning
Highly Repeatable Experiments in the Lab
100% Data Capture
Fewer Chemicals
Less Energy

Automate and connect jacketed reactors and control thermostats, stirrers and pumps with one touchscreen interface.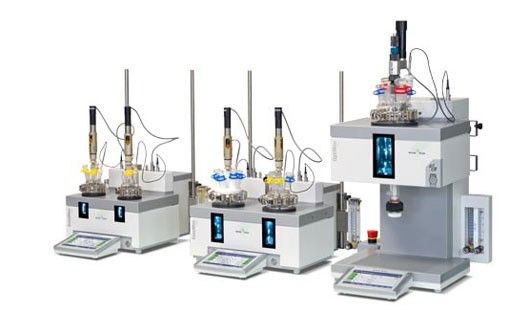 Chemical Synthesis Reactors
Replace the Round Bottom Flask
Chemical synthesis reactors replace glass reactors, ice baths, oil baths, and jacketed lab reactors. EasyMax and OptiMax chemical synthesis reactors are well established in every laboratory in the chemical and pharmaceutical industries. The innovative synthesis reactors allow accurate and precise control of reaction parameters, including dosing, sampling, stirring, and temperature control, enabling every chemist to perform reproducible reactions. Experiments can be run unattended around the clock, all data is automatically recorded and can be controlled and visualized either from the touchscreen or computer. Chemical synthesis reactors reinvent the way scientists work enabling them to generate more information per experiment to deliver life-changing products faster and more efficiently.
Explore a Wide Range of Operating Conditions
Flexible, Safe and Intuitive Chemical Reactors
EasyMax 102 Basic and EasyMax 402 Basic chemical synthesis reactors allow chemists to discover new synthetic pathways and develop elegant chemistry by exploring reaction conditions from -40 °C to 180 °C without an ice bath, oil bath, heating mantle or cryostat. Reactions can be run from 1 mL to 400 mL, controlling reaction parameters such as temperature, dosing or pH accurately so optimal conditions can be quickly identified. 
24-Hour Unattended Experimentation
Optimize Innovative Reactions
EasyMax 102 Advanced and EasyMax 402 Advanced chemical synthesis reactors help scientists quickly explore reaction parameters, even under difficult conditions. Simplification of the user interaction allows more successful experiments to be conducted and design of experiment studies (DoE) to be completed quickly.  Non-scalable reaction parameters and optimal conditions can then be identified with confidence. Reactions can be run completely unattended, day or night, enabling scientists to synthesize new compounds, eliminate non-viable candidates early and safely optimize the reaction in less time.
Ensure Safe, Robust and Scalable Processes
Characterize and Optimize During Scale-up
OptiMax lab reactor systems are designed to optimize process conditions in the liter scale and provide researchers with the ability to make informed and trusted decisions. The small footprint, powerful heating/cooling system, and ability to safely run reactions unattended, make OptiMax an ideal tool for process development. The optional upgrade to a Reaction Calorimeter delivers essential thermodynamic data helping researchers identify unsafe reaction conditions upon scale-up. 
Capture and Report All Chemistry Data
Make Better and Faster Decisions

EasyMax and OptiMax chemical synthesis reactors integrate seamlessly with real-time in situ Process Analytical Technology (PAT) probes, such as EasySampler, ReactIR, ParticleTrack, or ParticleView. All data and events are captured and reports are created in one click.  Because of comprehensive understanding of any process scale-up issues, scientists are able to deliver grams or kilograms of materials faster and safer.
Automated Chemical Synthesis Reactors in Journal Publications
Below is a selection of publications about chemical synthesis reactors.
Peplow, M. – "Automation for the people: Training a new generation of chemists in data-driven synthesis", C&EN, October 27,2019, Vol. 97, Issue 42
Mills J. E. – Chemical Process Research, ACS Symposium Series, 2003, Chapter 6, pp 87 – 109
Owen et al. − Organic Process Research & Development, 2001, 5, pp. 308 − 323
Hwang R., Noack R. M. − International Journal of Experimental Design and Process Optimisation, 2011, Vol.2, No.1, pp. 58 − 65
Guidance for Industry, Q8 (R2) Pharmaceutical Development, U.S. Department of Health and Human Services, Food and Drug Administration, November 2009, Revision 2
Charles D. Papageorgiou et al. "Development and Scale-up of an Efficient Miyaura Borylation Process Using Tetrahydroxydiboron" Organic Process Research & Development 22.1, 2017, 65-74
Thomas, et al. "Scalable and Selective Preparation of 3, 3′, 5, 5′-Tetramethyl-2, 2′-biphenol." Organic Process Research & Development 21.1, 2017: 79-84.
Buetti-Weekly, Michele T., et al. "Development of a safe and scalable process for the preparation of allyl glyoxalate." Organic Process Research & Development 22.1, 2018: 82-90.
Yang., et al. "Evaluation of Potential Safety Hazards Associated with the Suzuki−Miyaura Cross-Coupling of Aryl Bromides with Vinylboron Species." Org. Process Res. Dev. 2018, 22, 351−359
Kinetics of a C-H Activation Reaction, Sampling Air-Sensitive Reactions, METTLER TOLEDO Application Note based on studies by Brian Vanderplas and David Place, Pfizer
Expand Organic Synthesis of New Molecules
Discover how how researchers apply effective methods to develop new synthetic pathways and optimize critical process conditions. 4 case studies highlight how top pharmaceutical companies impact synthesis lab performance.

Expand the Capabilities of EasyMax
Researchers can choose between different versions of EasyMax systems or upgrade existing syntheses reactors to bring expanded control and smart data management. Download a guide to help choose the right EasyMax model for your lab.
Automated Reaction Sampling
For Accurate Impurity and Kinetics Profiling
Integrate EasyMax and OptiMax with EasySampler using an EasySampler Connectivity Kit. The unique EasySampler probe enables the capture and immediate quenching of reaction samples for a truly representative measurement of the reaction at the time of sampling. EasySampler sampling data is automatically transferred to, and reported with, the referring EasyMax or OptiMax, experiment.
Chemical Synthesis Reactors
Find the Ideal Reaction Conditions
Chemists and engineers often apply reactor systems for applications, such as Design of Experiments (DoE) or to screen and analyze process parameters. Mixing, dosing and pH control applications are examples of experiments which are quickly optimized with lab reactor systems. Applications include Organic Chemistry, Drug Conjugation, and Crystallization.
Products and Specs
Services
Explore our Services - Tailored to Fit your Equipment
We support and service your measurement equipment through its entire life-cycle, from installation to preventive maintenance and calibration to equipment repair. 
Professional Installation
- Get it right from the start