Flat Pack Line V33
Integrated Label and Package Inspection.
The system uses a line scan camera to perform inspections on the top and bottom of a package simultaneously without additional product handling requirements.
Ensure Package Seal Integrity
Inspect package seals for foreign debris, punctures and improperly fit seals, removing the danger of contamination caused by poor sealing.
Perfect Product Presentation
Ensures the correct labels are properly applied and ensures text and barcodes are readable.
Easy to Use
The powerful CIVCore software and the intuitive user interface make vision inspection a simple user experience.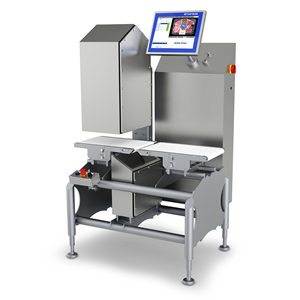 Specifikacije - Flat Pack Line V33
| | |
| --- | --- |
| Camera Technology | PC-based Camera |
| Package Orientation | flat pack |
| Product Sensor Capabilities | Detects clear, opaque and diffused products |
| Software Platform | CIVCore |
| Service | Remote Support |
| Warranty | 1 year warranty on all components |
| Label Check | Label ID |
| Code Check | Barcode; 2D Data Matrix; Alpha Numeric |
| Seal Check | Film Seal; Contaminants |
| Custom Check | Custom Applications |
| PC | Windows 10 64 bit OS, Intel multi-core processor |
| Monitor (HMI) | LCD 15 inch touch screen |
| Compliance | CE; ISO13849; NFPA79; UL508A |
| Encoder Based Tracking | Up to 256 parts across multiple conveyors |
| Lighting | steady LED modules; strobe LED modules (for greater efficiency) |
| Control Hardware Enclosure | stainless steel |
| IP rating | IP 65 |
| Multiple Reject Options | Air blow-off; Pusher; Soft Finger Rejecter |
| Electrical Documentation | IEC |
| Power Supply | 115-230 V AC (single phase), 50-60 Hz; UPS battery backup |
| Documentation | Multi-lingual interface (major languages) |
| Broj artikla | 56004044 |
Label Check
Inspect label quality, text, or other graphic identification to prevent label & package mix-up. Detection ensures that correct labeling is applied when managing product changeovers on high-speed production lines.

Code Check
Verify 1D barcodes, 2D barcodes and alpha-numeric text presence and print quality of correct coded information on the label. Verify end of line inkjet print is presented perfectly – reject products with smeared, misprinted or missing information.

Seal Check
Check seal edges for air pockets, debris or missed seals to ensure products can be enclosed properly.

Easy-to-use Software
Intuitive touch screen interface and standard configuration of inspection tools, simplifies new product setup saving you time and money.

Critical Inspection
Inspections are focused on the vital print, label and sealing requirements demanded by consumers, retailers and regulators.

Fast Changeovers
With just four touches on the screen, product changeovers happen automatically. Production line output need not be sacrificed in the name of packaging quality.

Easy Cleaning
Designed with only a few flat surafaces to give water fewer places to collect. The quick-change conveyors are easy to remove, clean and replace.

Dokumentacija