Retractable Process Adaptions (Housings)
Process analytical solutions for enhanced process safety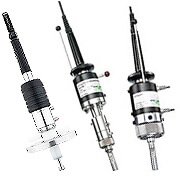 Retractable housings from METTLER TOLEDO are available in a variety of models to suit specific process and user requirements. They allow easy and safe insertion and withdrawal of electrodes/sensors without interruption of the ongoing process. Particularly suitable for processes which tend to cause sensor contamination or which run over extended periods.
Features and Benefits
Intelligent sensor locking system – If no sensor is installed, no action is possible, preventing unwanted operation.
Highly efficient cleaning chamber and large bore size design ensures particle/ dirt is flushed away.
The complete retractable housing conforms with ATEX (94 / 9 / EC) directive requirements.
Timesavings due to electrode/sensor maintenance and replacement without process downtimes.
Versions with manual or pneumatic operation, as well as automated cleaning and calibration.
Models for fully hygienic/sterile operations for process reliability.
Versions with integrated sensor detector for enhanced safety.
Process-independent maintenance, replacement and cleaning/(re-)calibration of electrodes/sensors without jeopardizing process safety, sterility/hygiene.
Wide range of options
Various construction materials, process connections, and insertion lengths are available for the different housing product lines, providing excellent installation flexibility at the measurement point.
Easy sensor maintenance
Housing design allows retraction of the sensor without interrupting the process: routine sensor maintenance, i.e. cleaning and calibration, can be performed anytime. The housings can be operated with EasyClean systems for programmable automatic sensor cleaning, flushing and calibration.

Proizvodi i specifikacije
Dokumentacija
Analize slučajeva

This case study explains how the Spanish API manufacturer Uriach Group was planning to install new reactors and needed high-performance analytical sen...

The lifetime of the installed electrode is still not yet known because even twelve months after termination of the scheduled test-period, the electrod...

With this sensor the risks attached to glass electrodes is now fully eliminated and Alpenhain were able to pass the rigorous audits of the certifying...