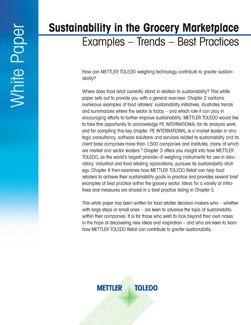 Sustainability White Paper
Sustainability Trends in the Grocery Marketplace
How sustainably does my company operate? How sustainable is my product range? The topic of sustainability presents food retailers with both a challenge and an opportunity. In an environment so profoundly competitive as the grocery sector, sustainability can become a branding tool and help to create competitive edge.
Over the last several years, the expectations on business to manage and demonstrate their environmental and social activities in addition to traditional performance factors, such as quality and cost, have increased. These expectations are coming from a wide range of stakeholders including investors, employees, business partners, regulators, and communities. Consequently many companies now talk about improving their "Sustainability" performance by understanding and driving improvements in the "triple bottom line": their environmental stewardship and social responsibilities alongside their financial performance objectives. For some companies, sustainability is becoming part of the core business strategy as they are implementing a wide range of programs to drive innovation and performance.
Building Sustainability into the Business

This white paper contains numerous examples of food retailers' sustainability initiatives, illustrates trends and summarizes where the sector is today – and which role it can play in encouraging efforts to further improve sustainability. It also offers insight into how METTLER TOLEDO, as the world's largest provider of weighing instruments for use in laboratory, industrial and food retailing applications, pursues its sustainability strategy. Finally, the paper examines how equipment manufacturers can help food retailers to achieve their sustainability goals in practice, and provides several brief examples of best practices within the grocery sector.