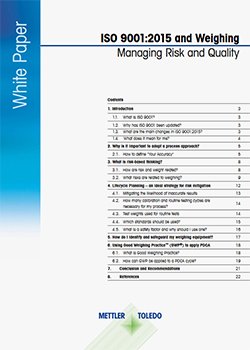 ISO 9001:2015 changes in weighing
ISO 9001:2015 is a new version of ISO 9001, which was developed by the International Organization for Standardization (ISO) as a standard that sets out the requirements for a quality management system (QMS). It aims to help businesses and organizations be more efficient and improve customer satisfaction. The latest version, ISO 9001:2015, replaces the 2008 version. Organizations have a 3 year transition period to adopt the changes, with a deadline of September 2018.
This white paper aims to:
Explain the changes in the revised standard of ISO 9001:2015 and describe the timeline associated with transition to the new version.
Look at the effect of these changes on weighing devices and weighing processes, as weight measurements are a critical process step which can significantly affect quality.
Provide guidance and recommendations on how to consider weighing devices in order to meet the process requirements and risk-based thinking approach outlined in the revised version of ISO 9001.
Introduce the firmly established Good Weighing Practice™ strategy which fully supports the risk-based process approach and explain how this already complies with ISO 9001:2015 and can be easily implemented into a Quality Management System.
This white paper will be relevant for managers from any organization in any industry that follow ISO 9001 and use any type of weighing devices or processes in the course of their business.
Simply enter your details below to download your free white paper and see how to adopt a risk-based process approach for your weighing processes which complies with ISO 9001:2015.