Impurity Profiling of Chemical Reactions
Automated Drug Development Strategies for Chemists
What is Impurity Profiling?
Impurity profiling aims at identification and subsequent quantification of a specific component usually present in a small quantity, usually smaller than 1%, and ideally lower than 0.1 %. Impurities are unwanted residuals that coexist, and form during or after the chemical reaction. The residuals can be inorganic or organic chemicals or residual solvents defining the quality and property of a specific product, for example the efficacy of an Active Pharmaceutical Ingredient (API).
Why is Impurity Profiling Important?
Impurity profiling plays an important role during different stages of R&D. Understanding impurities formation during chemical synthesis is essential. Researchers can innovate methods to minimize impurity formation or concentrations. Various agencies, including European Medicines Agency (EMA), Food and Drug Administration (FDA), and The International Council for Harmonisation of Technical Requirements for Pharmaceuticals for Human Use (ICH), regulate the rationale for reporting and control of impurities for organic, inorganic, and solvent residuals.
Impurity Profiling Methods
During the course of a chemical reaction, researchers take aliquots or time resolved samples. The sample represents a chemical composition at a certain time during the course of a reaction. The sample then needs to be further processed or modified for additional analysis, which usually involves a physical separation method. Physical separation methods, including chromatography, enable conversion of a spatial coexistence in a temporal coexistence. This provides the ability to separate various components for more analysis.
Impurity Profiling Considerations
When taking a sample manually, there is a chance the sample is not representative to the specific time point. A sample does not necessarily take into account the reaction parameters and the chemical environmental which it must represent. Usually, the chemical reaction still occurs until the taken sample is further processed, modified, or quenched. As a result, EasySampler was developed for reproducible, representative, automated, and unattended sampling.
Accurate Impurity Profiling
With Representative Reaction Samples
Accurate and reproducible impurity profiling is critical for any new drug application. The purity of an Active Pharmaceutical Ingredient (API) depends on several factors such as raw materials, reaction type, reaction route, and purification processes. In the early stages of chemical development, it is essential to measure and characterize impurity formation. With impurity profiling, synthetic organic chemists are able to change and control reaction conditions in such a way that the formation of the impurity can be reduced to an acceptable level, or even avoided. For drug authorities, the impurity profile is a fingerprint, indicating the robustness of the manufacturing process.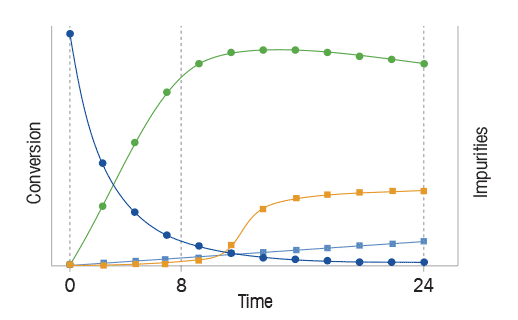 Impurity Profling with Complete Reaction Information
Reliably sampling chemical reactions, including slurries, reactions at elevated pressure, air- or moisture-sensitive reactions, and multi-phase reactions, is often difficult and tedious.  Also, many reactions are long, or may be started late in the day, making impurity profiling and collecting samples throughout the entire reaction difficult. As a consequence, there may be a limited number of samples collected, and/or sampling inconsistencies occur when collection methods are time-consuming, or when obtaining a representative sample is difficult. Meanwhile, if samples are not continuously collected, the reaction conversion target may be avoided, and impurity levels may reach an undesired level. By using automated sampling to continually collect accurate and reproducible samples for analysis, chemists gain more quality information from fewer experiments, which leads to quick decisions to develop innovative chemistry. 

Impurity Profiling of
Air-Sensitive Organometallic Reactions
Two application notes discuss how Janssen and Servier Pharmaceuticals sample reactions without affecting reaction progression:
Reaction Profiling of a High Temperature Buchwald-Hartwig Slurry
Endpoint Detection of an Air-Sensitive Ester Reduction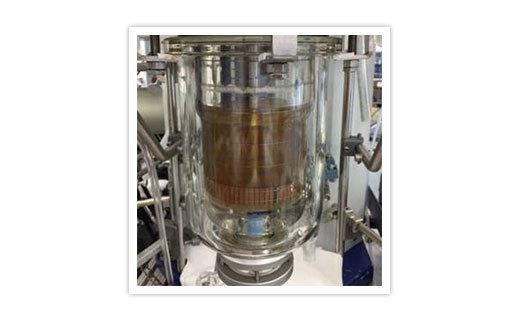 Impurity Profiling of Air-Sensitive Reactions
Reaction Kinetics and Endpoint Detection
Oxygen-sensitive reactions are difficult and tedious to sample, and typically require repeat experiments to gain complete data sets. Manual sampling introduces oxygen into the reactor and stalls the reaction progression. Furthermore, samples are altered when they are introduced to air during manual sampling. These factors affect the reaction rate, accuracy, and integrity of the reaction sample and lead to poor and inconsistent data. Having the ability to capture a representative sample from these types of reactions in an automated manner provides a complete and accurate data set. This enables accurate kinetics studies and generates representative impurity profiles to understand the rate and mechanism of formation. Overall, the information-rich experiments improve productivity and cost savings, and lead to reduced development times.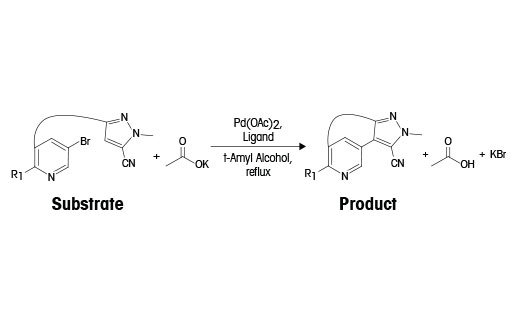 Sampling of Chemical Reactions
David Place, Pfizer, presented a case study with a palladium catalyzed C-H Activation reaction, shown to the right. The reaction is oxygen-sensitive, and oxygen levels of 5000 ppm in the headspace would result in a 50% increase in reaction time. However, to develop the reaction it was necessary to understand the kinetics profile, the mechanism of impurity formation, and assign a reasonable endpoint; but sampling was difficult without introducing oxygen to the reaction.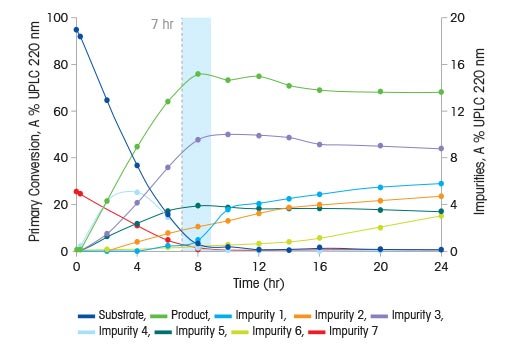 Impurity Profiling with In Situ Sampling
For this reaction (scheme above), twelve samples were acquired using EasySampler in situ sampling over a 24-hour period and analyzed by UPLC (see graph). The data gathered over the 24-hour period provides insight to the interconnectivities of the impurities monitored in the reaction, and especially highlights the need for a tight reaction cycle time. The conversion and impurity profiles show that when the product reaches a maximum at 8 hours, the reaction system must be immediately cooled from 102 °C to 20 °C, to avoid the Des-CN impurity (impurity 1) formation. If the mixture continues stirring too long, the by-product forms suddenly, and cannot be easily removed in subsequent workup and reaction steps. Based on this information, researchers quickly set in-process controls to correlate reaction time with impurity levels.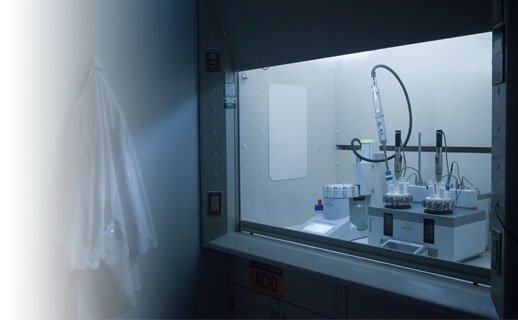 Technology for Impurity Profiling
Automated and Unattended Sampling
The automated and unattended sampling solution, EasySampler, enables accurate, reproducible, and representative samples. At user-defined time points, EasySampler automatically captures reaction samples, quenches samples immediately and at reaction conditions, and dilutes the sample to a user-specified concentration. The innovative and patented combination of in situ sampling, quenching and diluting guarantees high-quality samples, even from heterogeneous mixtures, air- and moisture-sensitive reactions, and reactions under pressurized and toxic conditions.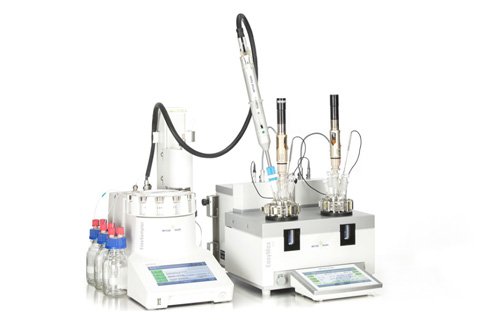 Tools for Innovative Chemical Development
Integrated Synthesis and Sampling Solutions
Automated chemical reactors with unattended, representative sampling change the way chemists work in the laboratory. Setup is intuitive, and experiments can begin at any time and be safely left to run overnight. With unattended control and continuous data collection, scientists gain an advantage: to understand, innovate, and make informed decisions.
Impurity Profiling in Recent Journal Publications
Below is a list of publications from peer-reviewed journals on impurity profiling by researchers to support data-rich experimentation to advance their research.

Featured Impurity Profiling Citations
Wang, K., Han, L., Mustakis, J., Li, B., Magano, J., Damon,D., Dion, A., Maloney, M.T., Post, R.J., Li, R., "Kinetic and Data Driven Reaction Analysis for Pharmaceutical Process Development", Ind. Eng. Chem. Res. (2019), Advance article (DOI: 10.1021/acs.iecr.9b03578)

Beutner, G.L., Coombs, J.R., Green, R.A., Inankur, B., Lin, D., Qiu, J., Roberts, F., Simmons, E.M., Wisniewski, S.R., "Palladium-Catalyzed Amidation and Amination of (Hetero)aryl Chlorides under Homogeneous Conditions Enabled by a Soluble DBU/NaTFA Dual-Base System", Org. Process Res. Dev. (2019), 23, 1529-1537.

Mennen, S.M., Alhambra, C., Allen, C.L., Barberis, M., Berritt, S., Brandt, T.A., Campbell, A.D., Castañón, J., Cherney, A.H., Christensen, M., Damon, D.B., de Diego, J.E., García-Cerrada, S., García-Losada,P., Haro, R., Janey, J., Leitch, D.C., Li, L., Liu, F.,  Lobben, P.C., MacMillan, D.W.C., Magano, J., McInturff, E., Monfette, S., Post, R.J., Schultz, D., Sitter, B.J., Stevens, J.M., Strambeanu, I.I., Twilton, J., Wang, K., Zajac, M.A., "The Evolution of High-Throughput Experimentation in Pharmaceutical Development and Perspectives on the Future", Org. Process Res. Dev. (2019) 23, 1213−1242.
Carter, H.L.,  Connor, A.W., Hart, R., McCabe, J., McIntyre, A.C., McMillan, A.E., Monks, N.R., Mullen, A.K., Ronson, T.O., Steven, A., Tomasia, S., Yates, S.D., "Rapid route design of AZD7594", React. Chem. Eng. (2019), Advance Article.
Zawatzky, K., Grosser, S., Welch, C.J., "Facile Kinetic Profiling of Chemical Reactions Using MISER Chromatographic Analysis", Tetrahedron, (2017) 73, 5048-5053.
Gurung, S.R., Mitchell, C., Huang, J., Jonas, M., Strawser, J.D., Daia, E., Hardy, A., O'Brien, E., Hicks, F., Papageorgiou, C.D., "Development and Scale-up of an Efficient Miyaura Borylation Process Using Tetrahydroxydiboron", Org. Process Res. Dev. (2017) 21, 65-74.
Rougeot, C., Situ, H., Cao, B.H., Vlachos, V., Hein, J.E., "Automated Reaction Progress Monitoring of Heterogeneous Reactions: Crystallization-induced Stereoselectivity in amine-catalyzed aldol reactions", React. Chem. Eng. (2017), 2, 226-231.
Malig, T.C., Koenig, J.D.B., Situ, H., Chehal, N.K., Hultinb, P.G., Hein, J.E., "Real-time HPLC-MS reaction progress monitoring using an automated analytical platform", React. Chem. Eng. (2017) 2, 309-314.
Duan, S., Place, D., Perfect, H.H., Ide, N.D., Maloney, M., Sutherland, K., Price Wiglesworth, K.E.; Wang, K., Olivier, M., Kong, F., Leeman, K., Blunt, J., Draper, J., McAuliffe, M., O'Sullivan, M., Lynch, D. , Palbociclib Commercial Manufacturing Process Development. Part I: Control of Regioselectivity in a Grignard-Mediated SNAr Coupling", Org. Process Res. Dev. (2016), 20, 1191−1202.
Aplikacije
Applications Related to Impurity Profiling of Chemical Reactions
Publikacije
Publications For Impurity Profiling of Chemical Reactions
Povezani proizvodi
Technology For Impurity Profiling of Chemical Reactions
Potpuno automatsko uzorkovanje, uključujući prikupljanje uzoraka, trenutno zaustavljanje reakcije uzoraka, razrjeđivanje i doziranje u bočicu
Automated Chemistry Reactors Control and Record All Reaction Parameters 24 Hours a Day