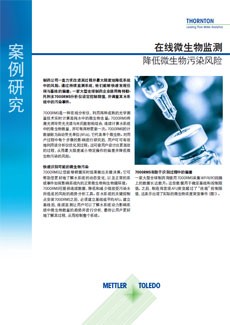 Microbial contamination risk
Pharmaceutical companies are constantly looking for ways to reduce microbial contamination risks in their production. Various measurement techniques exist to keep their systems within limits, such as plate counting. METTLER TOLEDO's 7000RMS analyzer is the first to measure on-line and provide continuous data. It can be used to continuously monitor bioburden to reduce and mitigate the risks of releasing contaminated water in pharmaceutical manufacturing.
A large global pharmaceutical company used a 7000RMS analyzer to monitor contamination events in their water system. They collected data on a WFI and RO loop, which was used to define control limits. After the limits were set the 7000RMS detected a spike in contamination that exceeded the defined limits, representing an actual microbial excursion event.
Learn in the case study how the 7000RMS analyzer provided the customer with process transparency that is not possible with other measurement techniques and helped them reduce their microbial contamination risks.
 

The 7000RMS analyzer from METTLER TOLEDO detects microbial contamination within seconds of a sample entering the analyzer. Measurements are continuously updated, providing a real-time profile of PW or WFI systems. This information enables you to quickly divert contaminated water before it impacts other locations within the water system and reduces overall microbial contamination risks.

Continuous monitoring with the 7000RMS allows constant and more accurate surveillance of a system's water quality. On-line monitoring enables early indication of microbial excursions so that process and quality groups can ensure water used for manufacturing is always in compliance and always under control.
The 7000RMS analyzer provides continuous monitoring resulting in process transparency that is not possible with plate counting. Real-time monitoring of the water system allows customers to identify any deviation from a baseline, either due to contamination or any event in the process. The 7000RMS gives customers a deeper understanding of their water systems, helping them to optimize their processes and minimize risks.