Thermostat System EM102 LT advanced
Cold Temperatures Made Easy.
EasyMax 102 LT Advanced Synthesis Workstation for Chemical and Process Development
Wide Temperature Range
The EasyMax 102 LT makes it possible to perform experiments at temperatures ranging from -90 to 80°C without the use of cumbersome oil and ice baths, or bulky cryostats.
For Chemists and Engineers
The personal workstation allows chemists and engineers to develop and optimize new synthetic routes, increase development speed and reduce cost.
Developed for Low Temperatures
The EasyMax 102 LT facilitates low temperatures at the push of a button. Special purging of the reactor zone prevents icing.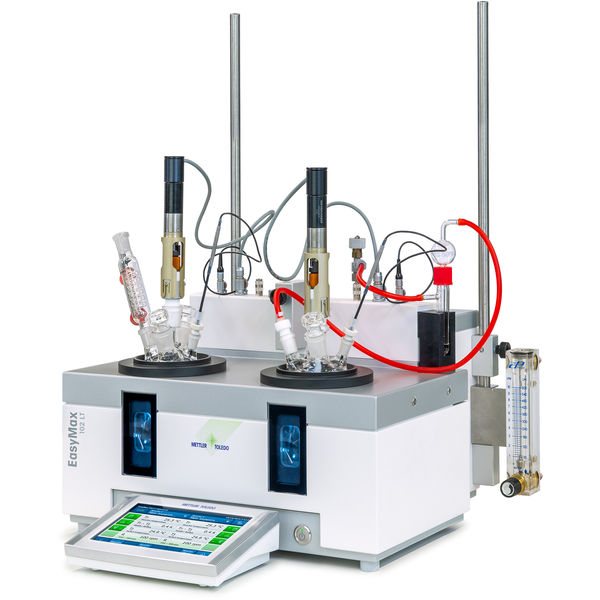 Specifications - Thermostat System EM102 LT advanced
| | |
| --- | --- |
| Temperature Range | -90 °C – 80 °C |
| Operating Volume | 1 mL – 100 mL |
| Material | Powder-coated stainless steel with FEP coated cover plate |
| Dimensions (HxWxD) | 28 cm x 43 cm x 36 cm |
| Back / Front light | Yes/No |
| Weight | 21 kg |
| Power Requirements | 100 – 240 VAC, 50/60Hz |
| Heating / Cooling | Solid State Thermostat |
| Temperature Modes | Jacket control, reaction mixture control, distillation control, crystallization control |
| Material Number(s) | 30548000 |
High Quality Process Control and Data
The EasyMax 102 LT Advanced allows for precise parameter control and records high quality process data, providing key information about chemical reactions.
Best User Experience
Operated via an easy-to-use touchscreen, reaction parameters can be controlled and data and trends displayed. A task sequence programmed on the touchscreen enables unattended operation. The optional, intuitive iControl PC software allows more complex recipes.
Broad Application Range and Flexibility
The EasyMax 102 LT Advanced allows users to control a broad range of reaction parameters such as temperature, pH, stirring speed or reagent addition at a high rate of precision. Reaction vials and glass reactors support working volumes from 1 to 100 mL.
Data Management Solutions
All experimental data is recorded automatically, and it can be evaluated further and exported into other applications. The server-based iC Data Center enables central data storage, automatic report generation and provides data for further analysis and visualization.
Documentation
Accessories
SevenExcellence pH Meter Line

SevenExcellence S400-Basic, pH/mV benchtop meter
Material No.: 30046240