Printers and Peripherals
Printers to perfectly complement your scale or weighing system
Traceable Production Processes with Reliable Printers
Globalized supply chains, stringent regulations and increased scrutiny from consumers require traceable production processes. METTLER TOLEDO Industrial weighing solutions function as important control points in the production chain, such as:
Receiving packaged materials
Printing entry label for raw materials
Printing weighing label
Filling process
Data transmission for production line

Industrial printers for reliable documentation
Built to withstand harsh industrial conditions, METTLER TOLEDO industrial printers and peripherals reliably document your weighing and process data with ease. Simple integration with METTLER TOLEDO weighing systems makes installation and use effortless. Optimize your printer and peripherals with METTLER TOLEDO software for designing labels and storing custom templates.
Documentation
Applications

When completeness matters or material is added or subtracted, weighing offers a simple quality control method to test narrow tolerances in-process or...
Services
Explore our Services - Tailored to Fit your Equipment
We support and service your measurement equipment through its entire life-cycle, from installation to preventive maintenance and calibration to equipment repair.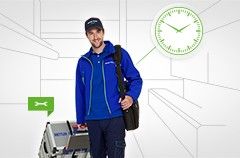 Performance
Maintenance & Optimization