Oriented Line V31
Flexible Label and Package Inspection.
A flexible vision inspection system for label, print and packaging applications with an expandable design supporting the addition of future inspection applications.
Flexibility
The system is easy to install, configure, operate and expand. As your needs increase the system can keep pace.
Adaptability
Print, label, container, case — the system can do it all. Whatever the inspection, it has been designed to meet your needs.
Usability
The powerful CIVCore software and intuitive user interface make vision inspection a simple user experience.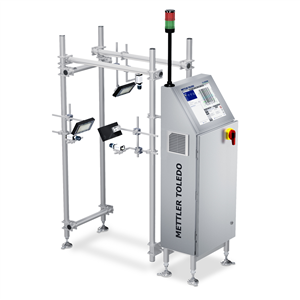 Specifications - Oriented Line V31
| | |
| --- | --- |
| Camera Technology | PC-based Camera |
| Package Orientation | oriented |
| Product Sensor Capabilities | Detects clear, opaque and diffused products |
| Software Platform | CIVCore |
| Service | Remote Support |
| Warranty | 1 year warranty on all components |
| Label Check | Label ID; Label Placement; Label Skew; Label Wrinkles |
| Code Check | Barcode; 2D Data Matrix; Alpha Numeric; Inkjet Print |
| Cap & Fill Check | Cap Presence/Absence; Cap Color; Fill on Transparent Containers |
| Seal Check | Film Seal; Contaminants |
| Custom Check | Custom Applications |
| PC | Windows 10 64 bit OS, Intel multi-core processor |
| Monitor (HMI) | LCD 15 inch touch screen |
| Compliance | CE; ISO13849; NFPA79; UL508A |
| Encoder Based Tracking | Up to 256 parts across multiple conveyors |
| Lighting | steady LED modules; strobe LED modules (for greater efficiency) |
| Control Hardware Enclosure | stainless steel |
| IP rating | IP 65 |
| Multiple Reject Options | Air blow-off; Pusher; Soft Finger Rejecter |
| Electrical Documentation | IEC |
| Power Supply | 115-230 V AC (single phase), 50-60 Hz; UPS battery backup |
| Documentation | Multi-lingual interface (major languages) |
| Material Number(s) | 56004043 |
Label Check
Inspect label quality, text, or other graphic identification to prevent label & package mix-up. Detection ensures that correct labeling is applied when managing product changeovers on high-speed production lines.

Code Check
Verify 1D barcodes, 2D barcodes and alpha-numeric text presence and print quality of correct coded information on the label. Verify end of line inkjet print is presented perfectly – reject products with smeared, misprinted or missing information.

Cap and Fill Check
Check cap or lid presence, color, and skew to ensure top packaging components match side label packaging. Detect fill levels on transparent containers to minimize overfill and eliminate under filled product.

Easy-to-use Software
Intuitive touch screen interface and standard configuration of inspection tools, simplifies new product setup saving you time and money.

Economical Design
Configurations to fit every budget, line layout and plant environment. The system is the perfect turnkey solution for a wide range of package inspection needs.

Seamless Line Integration
The flexible design means simple installation into your production line without the need for costly line breakages or product handling.

Modular Design
The system was designed to expand with manufacturer needs. Adding additional cameras is a snap with our easy-to-use adjustable camera mounts.

Documentation