CarePac 2000g F2 / 100g F2 Cal
CarePac Line.
CarePac® Medium 2000g F2 / 100g F2 inlcuding accessories for handling and cleaning and a calibration certificate
Cost Savings
Only what is needed for routine testing, two weights rather than the entire set of weights.
Optional Third Weight
CarePacs offer the option of adding a third weight of between 1 mg and 100 g for customized testing, e.g. determination of minimum weight.
Professional Accessories
Ergonomic tweezers and weight forks as well as clean-room approved gloves and cleaning cloths that meet the highest requirements of any industry.
Material No.: 11123009
Available for purchase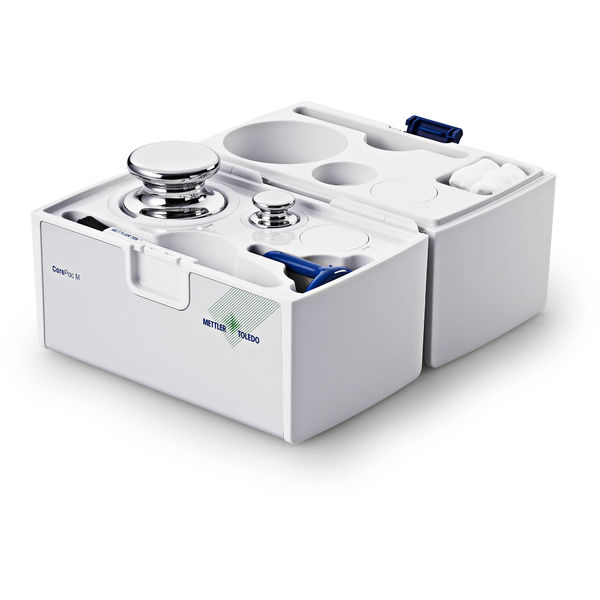 Product Family:carepac00040011
Specifications - CarePac 2000g F2 / 100g F2 Cal
| | |
| --- | --- |
| Design | Adjusting cavity |
| Susceptibility X | < 0.8 |
| Density p | 7950 (± 140) kg/m3 |
| Calibration Certificate | Yes |
| WeightLink Compatible | No |
| Box | Plastic box (included) |
| Material | Stainless Steel |
| Content (set up) | 2000g/100g F2 |
| OIML Class | F2 |
| Nominal Value | 2000g/100g |
| Material Number(s) | 11123009 |
Calibration Certificate:YesCalibration Certificate:YesOIML Class:F2OIML Class:F2Nominal Value:2000g/100gNominal Value:2000g/100g
Weighing Verification Service
Industry regulations demand testing regimes which are related to the process risk – the higher the risk, the greater the testing frequency. With the efficient GWP®-based testing approach, CarePacs® make it easy to stick to stringent testing schedules.

Routine Testing
Routine balance testing maintains balance accuracy and limits the risk of working outside your defined process tolerances. CarePac® weights are designed to validate process tolerances to within 0.03%.

Unique weight adjustment procedure
Electrolytic adjustment of weights is a unique METTLER TOLEDO technique. At our accredited mass laboratory, we calibrate and adjust in accordance with ISO/IEC 17025 requirements. The results are documented in a traceable accredited calibration certificate.