pH Electrolyte and Maintenance Solutions
Solutions and Electrolyte for Sensor Maintenance
The Right Electrolyte for any Application
An important part of your pH measurement, the pH sensor, requires special care and attention. METTLER TOLEDO offers the necessary maintenance and electrolyte solutions to meet your needs and ensure your measurements are accurate.
The correct electrolyte will minimize junction potential errors and provide optimum temperature and time response. To achieve good electrode performance the electrolyte must be refilled or replaced regularly. The Electrolytes come with a special cap that make refilling your electrode a child's play.
Test Certificates
To guarantee maximum traceability, an individual test certificate exists for every batch of buffer solutions. It can easily be downloaded and printed for documentation purposes.
Download your certificate here
Compliance with GHS
Remaining compliant with regulations is important. All of our SDS (Safety Data Sheet) and labels contain information according to GHS (Global Harmonized System) in local languages.
Download your SDS here
Small Volume Packaging
We offer electrolyte solutions in a variety of bottle and package sizes.
Choose between 25 mL or 250 mL single- or six-pack options.

GEP - Good Electrochemistry Practice
Quality data begins with quality solutions and proper maintenance of the measurement system. Regular cleaning of the membrane and the diaphragm is needed to reduce junction potential errors and bad response. Furthermore proper storing together with cleaning increases the lifetime of your sensor.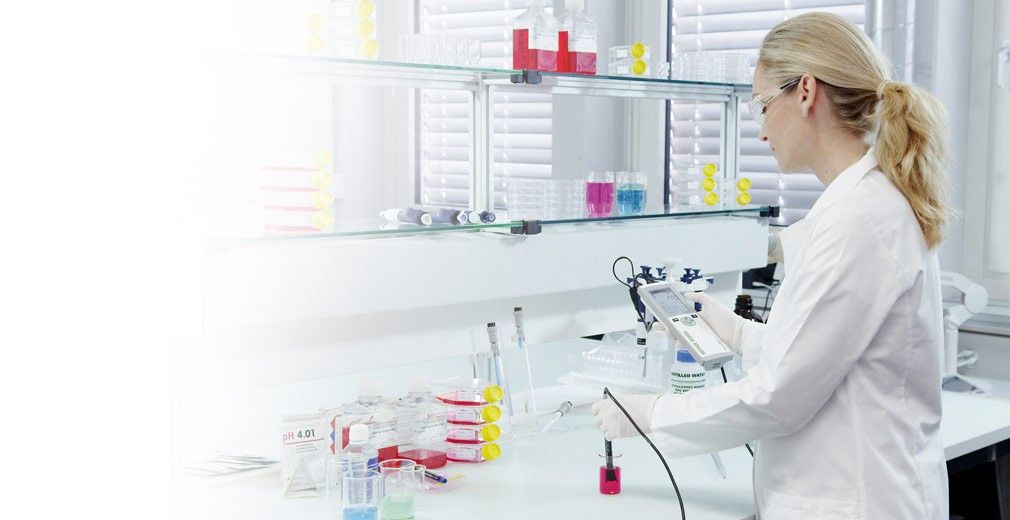 Complete Electrochemistry System
pH measurement does not depend only on your pH meter. All components in your system must be working at their best to provide reliable results.
Ensure your electrochemistry system is complete by choosing the right sensor, solutions and installation services for your specific needs.

Meters
To fit your electrochemistry system needs, we offer a variety of benchtop and portable meters that are professional and durable. Our portfolio offers products designed for compliance, routine measurements or anyone working on a tight budget.
Benchtop Meters
Portable Meters
Sensors
The complete InLab sensor portfolio covers the whole scope of pH applications. These range from routine measurements to specialist applications. To find your perfect match, visit our Sensor Product Guide today for an interactive way to the right sensor
Sensor Product Guide
Service
We offer different service packages depending on your needs. These range from professional on-site installation and configuration to documented proof of compliancy. If full coverage beyond initial warranty is desired, we offer an extended care package in the form of preventive maintenance and repair.
More about Service
Products and Specs
Documentation
Product Brochures

The determination of pH, conductivity, ion concentration, redox potential and dissolved oxygen are common analyses in most laboratories. The measureme...
FAQ
What is a pH reference electrolyte?
The reference electrolyte ensures a stable signal transmission. It closes the electric loop by. Due to its high ion concentration, the reference electrolyte conducts the electronic signal from the reference element (mainly Ag/AgCl) to the measured medium and thus closes the electronic circuit of the pH measurement system.

What is the difference between refillable liquid and gel electrolyte?
Electrodes with refillable liquid reference electrolyte will have a longer life, less risk of reference contamination and faster response time than electrodes with gel electrolyte. However, sensors with gel electrolyte are easier to maintain.
How should I store my Sensor?
pH glass sensors need to be kept moist at all times. If an electrode dries out during storage, a regeneration procedure is required to restore the hydrated glass layer and the reference junction in order to make the sensor operable. As a general rule, store your pH sensor in the same solution as the reference electrolyte of the sensor. In most cases InLab® Storage solution can be used. Sensors with a bridge electrolyte should be stored in the electrolyte of the outer electrolyte compartment.
How should I clean my pH sensor?
Your pH sensor should be cleaned regularly. Reduced slope and/or offset or slow response time are an indication that your sensor needs cleaning. Fats, oils, and grease should be cleaned with a non-ionic surfactant solution or methanol. Proteins should be cleaned with a Pepsin-HCl Cleaner solution. After cleaning, rinse the sensor with deionized water, recondition it in 3M KCl and then store in store in the InLab® Storage Solution.
What is the expected outflow of reference pH electrolyte?
1 mL per 24 hours for electrodes with ceramic diaphragm (e.g. InLab® Routine)
3 mL per 24 hours for electrodes with sleeve diaphragm (e.g. InLab® Science)
Electrodes with solid state electrolyte and open junction (e.g. InLab® Expert) have no outflow but only "exchange" of ions via diffusion
Does the level of inner pH electrolyte in a bridge electrode need to be greater than the outer pH electrolyte?
Yes. If the bridge electrolyte has a higher filling level, then it flows into the chamber with the pH reference electrolyte (due to the higher pressure at the inner junction). This changes the composition and it is not pure 3 mol/L KCl anymore. The reference signal of the electrode depends on the solution's composition, hence, the measured potential between measuring half-cell and reference half-cell changes due to it.
Is cristalization of electrolyte and salt deposits dangerous?
Salt buildup and crystallization of KCL is not harmful to the electrode and does not inhibit its performance, however it should be removed before measurement.