Conductivity Standards
Precise Calibration and Verification Across the Whole Conductivity Range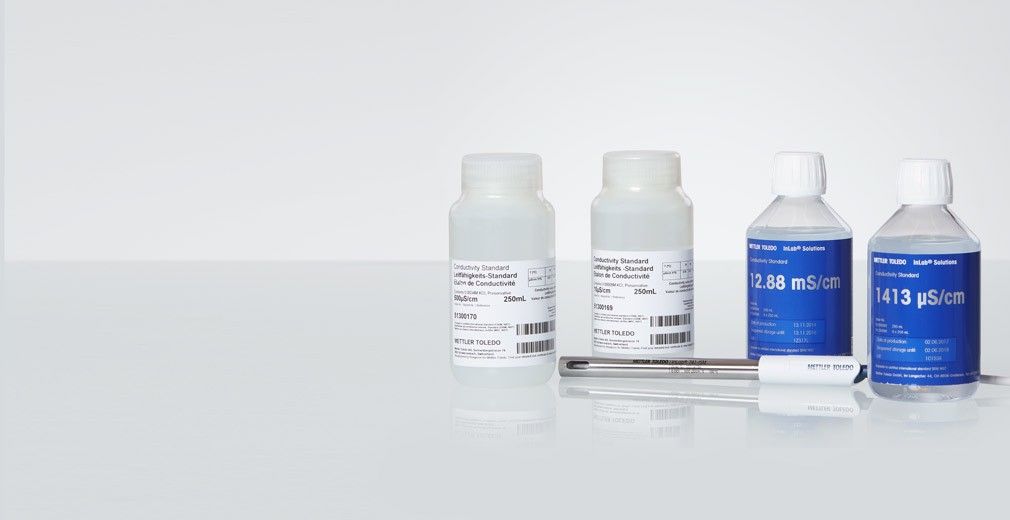 Conductivity Standards
All METTLER TOLEDO's conductivity standards are traceable to certified international standard SRM NIST. To guarantee maximum traceability, an individual test certificate exists for every calibration solution. Simply download the quality certificate from our online database.
Test Certificates
To guarantee maximum traceability, an individual test certificate exists for bottled standards. It can easily be downloaded and printed for documentation purposes.
Download your certificate here
Compliance with GHS
Remaining compliant with regulations is important. All of our SDS (Safety Data Sheet) and labels contain information according to GHS (Global Harmonized System) in local languages.
Download your SDS here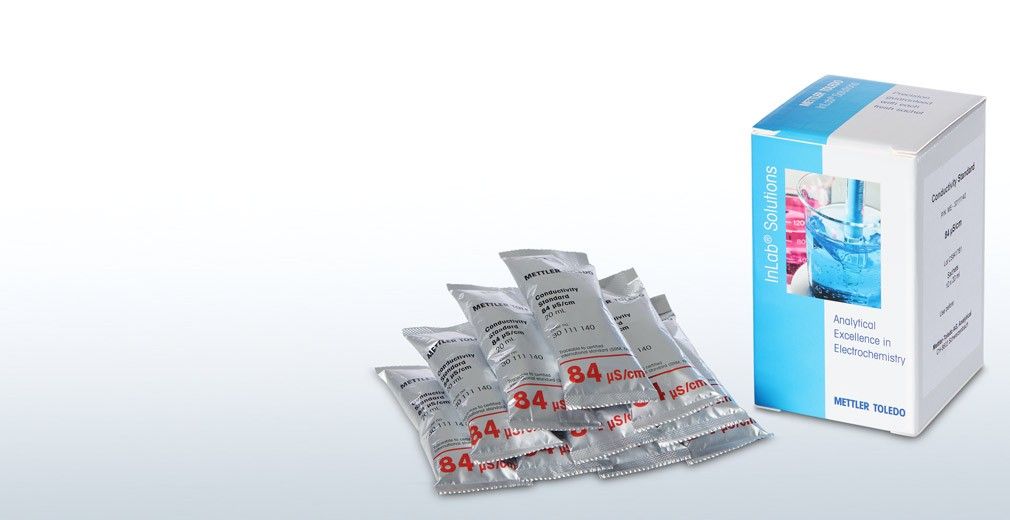 No Matrix Errors
All METTLER TOLEDO's conductivity standards are aqueous-based. This means that they do not cause the matrix-mismatch errors, when sample is also aqueous, that can be associated with non-aqueous conductivity standards.

Due to their aqueous composition, METTLER TOLEDO's conductivity standards are non-hazardous and they do not present any shipping, storage, handling or disposal problems.
GEP - Good Electrochemistry Practice
Conductivity measurements are only as accurate as the standards used for calibration or verification. METTLER TOLEDO offers a selection of aqueouse conductivity standards to match your requirements.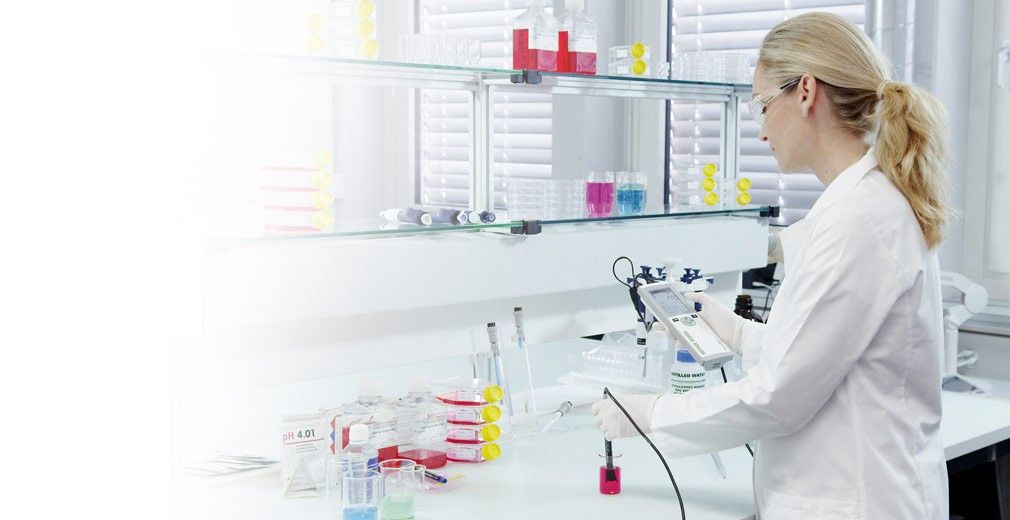 Complete Electrochemistry System
Electrochemical measurement does not depend only on your meter. All components in your system must be working at their best to provide reliable results.
Ensure your electrochemistry system is complete by choosing the right sensor, solutions and installation services for your specific needs.

Meters
To fit your electrochemistry system needs, we offer a variety of benchtop and portable meters that are professional and durable. Our portfolio offers products designed for compliance, routine measurements or anyone working on a tight budget.
Benchtop Meters
Portable Meters
Sensors
The complete InLab sensor portfolio covers the whole scope of conductivity applications. These range from routine measurements to specialist applications. To find your perfect match, visit our Sensor Product Guide today for an interactive way to the right sensor
Sensor Product Guide
Service
We offer different service packages depending on your needs. These range from professional on-site installation and configuration to documented proof of compliancy. If full coverage beyond initial warranty is desired, we offer an extended care package in the form of preventive maintenance and repair.
More about Service
Products and Specs
Documentation
Product Brochures

The determination of pH, conductivity, ion concentration, redox potential and dissolved oxygen are common analyses in most laboratories. The measureme...
FAQ
What is a conductivity standard used for?
A conductivity standard is used for calibration or verification. A low conductivity standard requires special handling and is mostly used for verification purposes. Additionally, the low conductivity standard is directly affected by CO2 when in contact with air. Thus, they have a shorter shelf life and require protection with inert gas or the usage of a flow cell. These types of conductivity standard are only intended for verification and not calibration.
Is the 10 µS/cm conductivity standard appropriate for calibration?
10 μS/cm conductivity standard is highly vulnerable and is directly affected by contamination or influence of CO2 when in contact with air. Due to this high likelihood of a quick value change, it is intended only for verification of a measurement and not calibration.
We always recommend to calibrate with a 84 μS/cm conductivity standard and do check with the 10 μS/cm standard, even when measuring in very low conducting media such as pure water.
What precautions must be taken when measuring in low conductivity standards and samples?
Equipment

Measurements of samples with conductivity values lower than 10 μS/cm need a special equipment and procedure. First of all a two-pole cell, featuring a low cell constant (0.01– 0.1 cm-1), is needed. InLab® Trace and InLab® 741//742 are specially designed for these requirements.  
Measurement arrangement

CO2 from the atmosphere greatly influences the conductivity measurement at this low level. To get reliable conductivity results below 10 μS/cm, the follow­ing two approaches are recommended:
The sample is protected by an inert gaseous layer of nitrogen or argon to prevent contamination from the atmosphere. This allows the use of normal dip cells to measure samples in the range of 1 to 10 μS/cm.
A closed system like a flow cell eliminates the influence of CO2. This is the best practice to measure samples with a conductivity value lower than 10 μS/cm. However, samples with higher con­ductivities may also be measured in this manner. For non-pressurized samples, flow cells can be used with a peristaltic or a membrane pump, given that they are completely sealed systems. With other types of pumps, the sample or standard comes into contact with the pump which can lead to contamination and erroneous readings. For sample and standards, the flow must not introduce any air bubbles.
Precautions

Contamination from one sample to another or from a calibration standard to a sample can cause incorrect readings. Rinsing the flow cell, tubes and sensor between each mea­surement helps to prevent this problem. The following steps are recommended:
Calibration and Verification standards

METTLER TOLEDO offers certified standard solutions with a conductivity of 10 μS/cm and lower. These standards are only intended for checking the reading of low conductivity measurements, because they are easily affected by any mishandling. For best accuracy of low conductivity calibrations, the 84 μS/cm standard should be used. The consistent lin­earity of METTLER TOLEDO measuring systems between 84 μS/cm and low conductivity values provides much better accuracy than is typically obtained by using standard solutions with conductivity below 84 μS/cm.

Conductivity standards of 10 μS/cm and lower can only be used for one calibration or verification right after opening. 84 μS/cm standard should be used within one day after opening.