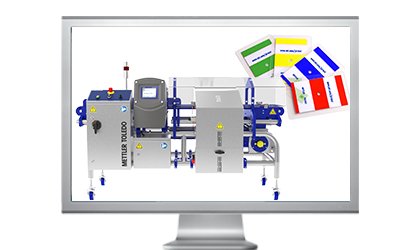 How To Test Conveyorized Metal Detection Systems
This on demand webinar - How To Test Conveyorized Metal Detection Systems - is part of a new "How To…" series of educational, online events hosted by METTLER TOLEDO Product Inspection. These webinars are designed to help manufacturers to better understand how you can optimize the performance of your product inspection equipment.
Are you looking for guidance on correct set-up and performance monitoring procedures? This webinar will give you the answers. We will be begin with a discussion on commissioning your metal detection system and what is required to meet food industry standards. We will then explain initial validation procedures and discuss routine performance monitoring processes with presenter-led demonstrations for each.

In addition to providing practical guidance on how to test your conveyorized metal detection system to achieve compliance with food safety standards and retailer codes of practice, the webinar will also discuss best practice examples that make compliance easier to achieve.

The on demand webinar will conclude with a Q&A session.
Ian Robertshaw & Paul Holdship
Learn How To Validate Your Metal Detection System
Validation is the process of confirming through objective evidence, that the equipment will meet the specified objectives.  In this webinar, we will give a demonstration of how to validate your conveyorized metal detection system. This will include recommendations on the number of product passes required to establish an appropriate confidence interval to validate the metal detection system does meet the specified objectives.
Explore How To Monitor Ongoing Performance
The demonstration will then move on from how to validate your metal detection system, to how to confirm it continues to perform as expected. Standard routine performance monitoring tests will be demonstrated, along with an overview of additional tests that may be required to comply with Retailer Codes of Practice. We will also discuss options for recording and storing test result data, and highlight best practice approaches.
Discover What Is Involved In Verification Processes
GFSI-based food safety standards require that product inspection systems, including metal detection systems, are periodically verified. This is typically completed every 6 or 12 months, and aims to answer the question "is the specified equipment under control and operating as expected?" In this part of the webinar, we will discuss how the system and the operator's actions are assessed.