Making the Difference — Supporting Science
Making the Difference — Supporting Science
Your work inspires us. We're thrilled to be designing and building pipettes and tips that have been integral to many important discoveries.
And since we know funding can sometimes be a challenge, we've started a new program to select one researcher each month to receive a free Rainin instrument for their research.

Interested?
It's simple: Register below, and let us know which of our instruments you need — and above all, why.
At the end of the month we'll review submissions and pick a winner. We will announce it on this page and publish your winning entry. And we'll ship you the instrument you asked for.

What are you waiting for? Apply for a free Rainin instrument today.
Tell us your story
Below is the collection of winners, whose research we decided to support. Feel free to read up on their research and get inspired to tell us about what you're working on.

We want to hear your stories and help you make an impact with your research.
Extracting and amplifying specialist species DNA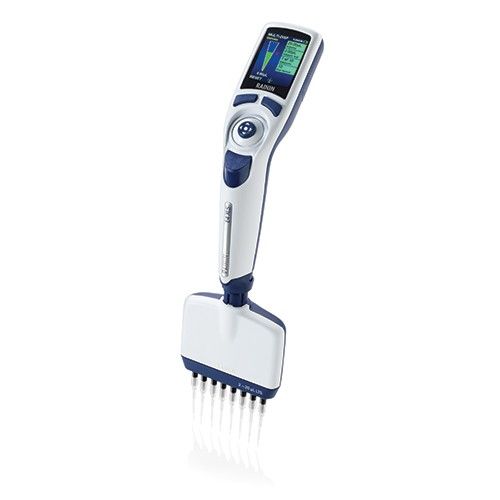 It's humid and dry at the same time. My legs are bleeding from walking steadfastedly through bramble, my dog obliviously nipping at my heels as I fight my way through thorns. Squishy ground that threatens to suck my shoes away from me but eventually I plug my way to a beautiful, quiet stream, where I finally see an abundance of smelly white flowers whose leaves are full to the brim with larvae. I bend down, ID the plant, and plop a confused larva into a tube of 100% ethanol.
I went to great lengths (literally and figuratively) to collect several thousand larval samples whose genetic information will tell me about the the evolution of host adaptation. I crossed up and down the length of California, fighting physical injury, exhaustion, and nosy (and for some reason unreasonably angry) bystanders. Now the only bottleneck is the speed at which I can genotype them. Lab work takes time. Each sample has to have its DNA extracted, and amplified, and run out on a gel. Nothing is more frustrating to me than the slow grind of pipetting 4 uL of DNA, adding it the loading dye. Adjust the pipette to 5 uL. Load the gel. Adjust to 4 uL. Next. Repeat 4,519 times, not including PCRs that, for reasons only known to the lab goblins, need to be re-run.
I want to know already. Why has a specialist species suddenly adapted to a totally new host plant? What is the species and host distribution of these mustard-feeding insects? When can I get out of the lab and back to the field? A Rainin multi-channel electronic pipette would help me process my thousands of samples more quickly and get me back into the field, doing what I love to finish my PhD.
Kirsten, U.C. Berkeley, California, USA
A pipette to accommodate new spacing on BeadChip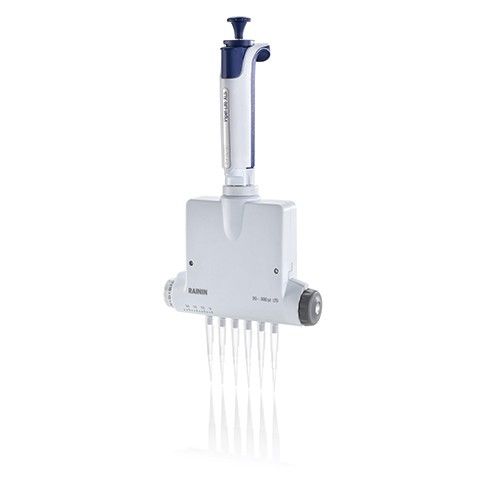 In 2009, our team in Laboratory of Department of Animal Genetics started to work with new and fresh method of genotyping. We met the genomic microarrays. The beginnings were sometimes dificult. How to load 12- 14 microliters of DNA sample onto BeadChip section in short time if the number of these samples is 96 or more. But we learned more and more. So when we started to use the 8-channel pipettes the life has become easier and more pleasant. But in 2017 year the spacing of the BeadChips has change and we had to return to use a single channel pipette. But we found the information about the another kind of precision pipette eg. adjustable spacer multi-channel one. We would like so much to work with Rainin LA8-50XLS pipette (5-50ul).
Anna Rusc, Ph.D., Department of Animal Genetics, University of Warmia and Mazury, Olsztyn, Poland
Prepping culture media for lactic acid producers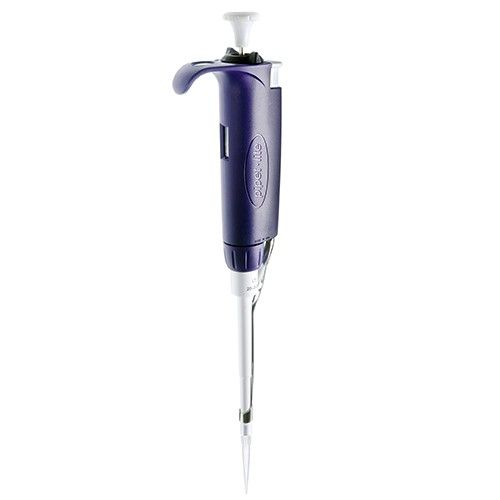 I have been pursuing a PhD at the ICT Institute in Prague. My area of study is using waste materials such as straw hydrolysates or feathers to prepare beneficial and financially low-maintenance culture media for lactic acid bacteria to produce lactic acid, a substance used in a very wide industry. Of course, pipetting is essential during this research. The volumes are often small, where precision is imperative, and since all our students are in our lab (bachelors, diplomats, etc.), most of our pipettes are really in poor condition. Frequent repetitions are needed because the pipetted volume was not consistent with the requirement, etc. I think a new pipette from Rainin could greatly facilitate my research and move me a step closer to results that would be important not only for my final work, but also for future benefit to the chemical industry. That's why I think your Pipet-Lite LTS Pipette L-1000XLS + would be the right partner for me in my research.
Marek Drahokoupil, VŠCHT Praha, Czech Republic
Rainin Pipettes and Tips
for Top Pipetting Performance
Rainin, a METTLER TOLEDO Company, is the leading provider of advanced laboratory pipette solutions for life scientists worldwide.
We offer a wide selection of pipettes
Manual pipette
Electronic pipette
Multichannel pipette and single channel pipette
BioClean pipette tips
And expert pipette services that work together as a complete pipetting solution – Pipetting 360°
Top quality, innovative design and state-of-the-art production result in superior pipette products with years of reliable operation.
In addition, METTLER TOLEDO's unique Good Pipetting Practice™ (GPP™) is a risk-based, comprehensive and systematic approach to maximizing pipetting accuracy and repeatability.
Rainin pipette – serving the life sciences for over 50 years.
Rainin manual pipette
Rainin offers state-of-the-art single channel pipettes, multichannel pipettes and adjustable spacer manual pipettes and accessories that raise the bar on comfort, performance and control.
Rainin's Pipet-Lite™ XLS+ manual pipettes blend cutting-edge engineering and innovation to deliver highly reproducible results with exceptional comfort. New "stiction-less" elastomeric seal technology and polymer tip ejectors deliver smoothness and control. The sure-fit handle, light springs and patented LTS™ LiteTouch™ System ensure smooth, comfortable operation and significantly reduce the risk of repetitive strain injuries. Tip shaft options include low-force LTS for improved ergonomics, as well as universal-fit.
In addition, all Rainin XLS+ pipettes are equipped with RFID tags for enhanced security, state-of-the-art inventory control and calibration tracking.
Rainin manual pipette – the pipette of choice for world-class results.
Rainin electronic pipette
Rainin delivers feature-rich single channel pipettes, multichannel pipettes and adjustable spacer electronic pipettes and accessories that are ready for your most demanding laboratory applications.
Easily configure the E4 XLS+ to be as simple or elaborate as your work requires. Its large color screen, joystick control and graphic interface make moving between functions and operating the pipette easy and effortless. Not only is every E4 XLS+ function highly customizable, multiple protocols can be stored on board for later use.
Pipette settings, protocols and service alarms can be password protected for GLP/GMP compliance. What's more, GLP data, such as service records, cycles and status data is completely tamper proof.
Your data is everything – trust the E4 XLS+ electronic pipette to deliver!
Legal Disclaimer
This prize draw is open to companies in the field of Life Sciences. There is no purchase required in order to participate in the prize draw. The winners will be selected at random from the duly completed registrations received by METTLER TOLEDO in time. The odds of winning depend upon the number of entries received. The selection is final. No correspondence will be entered into. Legal action is excluded.
The winners will be notified by e-mail and will receive their prizes by post or an equivalent transportation service.
Prizes will only be attributed in compliance with the applicable export control regulations and all other regulations, which Mettler-Toledo is subject to. Prizes are non-transferable, there is no cash alternative in whole or in part. METTLER TOLEDO however reserves the right to substitute an alternative of equal or higher value.
Winners are responsible for the payment of all charges or taxes related to the receipt or use of the prizes.
By participating in this prize draw and to the extent permitted by law each participant and winner waives any and all claims of liability against METTLER TOLEDO, its employees and agents, for any direct or indirect losses or damages arising out of or in connection with the participant's entry, its use by METTLER TOLEDO, this prize draw or from the use of any prize. In the event of circumstances arising outside of its control METTLER TOLEDO reserves the right to cancel or change the prize draw at any stages. Participants agree that all data, especially name and address, may be processed, stored and otherwise used for the purposes and within the context of the prize draw. Unless participants have consented to, their data will not be used for marketing or other purposes nor shared or distributed to any third party.
Participants confirm to be authorized to provide all information requested in the questionnaire form.
All entries shall become the exclusive property of METTLER TOLEDO and will not be acknowledged or returned. Each participant submitting an entry acknowledges that METTLER TOLEDO reserves the right to use the entry and its contents for any purpose whatsoever and without any further obligation.
Employees of METTLER TOLEDO and such employees' immediate family members are excluded from this contest.