Legal-for-Trade Applications
Legal-for-Trade Weighing in Business Transactions
In a business transaction, where the price of the product being sold is based on its weight, the balance or scale used must be a 'Legal for Trade' version, sometimes otherwise known as an 'Approved' version. In such Legal for Trade weighing transactions, the weight must be accurately determined to ensure fairness to both buyer and seller.
Where the product being weighed is very valuable, as is the case in the jewelry and gemstone trades, a small measurement error could mean a considerable financial loss to one of the parties in the transaction. The buyer wants to be confident that he is getting the total amount of gold or gemstones that he has paid for; the seller wants to be sure that he is not making a loss on the sale. In addition, any jewelry wholesaler or retailer wants to uphold their reputation for being a trustworthy dealer. This can only happen if the Legal for Trade weighing process performed provides accurate results.
Legal requirements for weighing equipment vary from country to country and it is important that wholesalers and retailers ensure they meet the local requirements of the area in which they are trading.
Legal for Trade balances and scales undergo more rigorous testing than a common scale or balance. Such scales and balances must successfully pass all the tests in order to achieve Legal for Trade certification. Producers of Legal for Trade scales and balances seal the balances at the point of manufacture. This prevents the scale from being opened by unauthorized personnel. The Legal for Trade seal helps businesses to pass audits by weights and measures inspectors. The Legal for Trade certification and seal gives buyers the confidence that the weighing equipment has not been tampered with and that results should be accurate.
Jump to one of the following sections to explore and learn more:
Legal for Trade and Weighing Know-how
Various legal metrology establishments provide guidance for the selection and correct use of weighing equipment.
The International Organization of Legal Metrology (OIML) provides recommendations in document OIML R 76-1. In the United States, the National Institute of Standards and Technology (NIST) offers technical requirements in Handbook 44 (H-44). Devices that are intended for commercial applications will carry the National Type Evaluation Program (NTEP) certification issued by the National Conference on Weights and measures (NCWM). This signifies that the product has been tested and conforms to NIST H-44 requirements.
Such legal requirements describe clear rules for selecting and operating a balance or scale to ensure accurate measurements. This includes definition of the scale division that can be used for business transactions (i.e. the 'e' value, which can differ from the readable scale division, the 'd' value).
Furthermore, it is important to continuously monitor the performance of a balance or scale to ensure ongoing accurate results. An annual service by an authorized service technician is not sufficient. A balance or scale is easily affected by environmental conditions such as air movements, temperature changes and vibrations. A business cannot afford to wait one year between services to ensure a balance or scale is working accurately and that the performance has not drifted or deteriorated.
A Legal for Trade balance or scale should be tested at regular intervals between each service in the same way as a common balance. The frequency of testing is dependent upon the required accuracy of the weight measurements. The environment in which the scale is installed will also influence how often the scale should be tested. For example, a change in the ambient temperature of just 1°C can influence the accuracy of the weight result.
Do You Need Support?
Contact us now for further information on Legal for Trade balances and scales.
Our team of experts can help you choose the balance or scale and advise you on how to ensure ongoing accurate weight results.
METTLER TOLEDO Legal for Trade Gold Scales and Carat Scales
All METTLER TOLEDO jewelry scales are available as Legal for Trade versions. With a comprehensive portfolio of gold scales and carat scales, we can help you meet your legal requirements for weighing gold, precious metals, diamonds and gemstones.
JET and JE gold and carat scales feature internal test weights enabling you to test and adjust your scale at any time to ensure your weight results are always accurate. JET scales can even be set up to perform the tests automatically.
Weighing gold and precious metals requires an accurate and reliable gold scale or jewelry balance. Learn more about gold weighing applications and how to avoid errors when weighing gold.
Weighing diamonds, gemstones, and precious stones requires an accurate, reliable carat scale. Learn more about diamond weighing applications and how to avoid errors when weighing diamonds.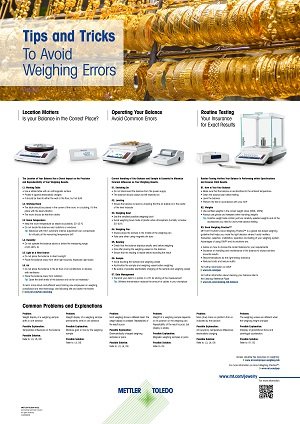 Tips and Tricks to Avoid Errors When Weighing
Make sure you get the most out of your balance by avoiding the common mistakes that can lead to inaccurate weighing results. This valuable poster is packed with useful advice and recommendations on:

Locating your scale in the correct place
Operating your scale
Routine testing
How to Test Your Balance or Scale
Routine testing of your balance or scale is essential to ensure ongoing accuracy in between service calibrations. An effective routine testing schedule can be more cost-efficient than correcting mistakes due to inaccurate results.
Download our free guide to routine balance testing and learn about:
Testing frequency
Test methods and SOPs
Test weights
User training
FAQ - Legal for Trade Applications
1. What is the difference between Legal for Trade and non-Legal for Trade?
Legal for Trade balances and scales must be used when weight forms part of the business transaction. For example, the price of a gold necklace depends directly on the weight of gold it contains. Conversely, when tracking how much of a diamond has been polished away, a Legal for Trade scale is not required. Whilst still very important to the business, this weight measurement is not part of a sales transaction.
2. My jewelry scale is calibrated once a year when it is serviced. But how often do I need to test it in between?
Through normal use, the performance of a scale will change over time. Calibrating a scale once per year by an authorized service technician is always a good idea in order to maintain a documented record of its performance. The amount of testing required in between depends upon the level of accuracy you require. Higher accuracy requires more frequent testing. However, JET scales feature internal test weights and FACT technology which tests and adjusts the scale automatically. When using FACT, the amount of testing can typically be reduced. Please contact us for precise advice on testing a balance and scale.
3. Why does a Legal for Trade scale cost more than a regular scale?
To qualify for Legal for Trade, there are many additional requirements that a scale must fulfill over and above those of a regular scale. For example, the additional software adaptations necessary will require extra investment from the manufacturer, adding to the price of the scale. The extensive testing that every Legal for Trade scale undergoes, as well as the required associated documentation, also contribute to the additional cost.
4. Why should I buy a Legal for Trade scale if I don't intend to use it in a business transaction?
When you buy a Legal for Trade balance or scale, you have the reassurance of knowing that you have a quality scale that has been independently tested to verify its performance.
5. Is an Approved balance or scale better than a regular one?
METTLER TOLEDO balances and scales are all manufactured to the same high quality. However Legal for Trade versions undergo additional independent testing. When comparing an equivalent scale from an alternative manufacturer that does not offer a Legal for Trade version, it may be worth considering why it does not have the certification.
6. What is the different between 'Approved' and 'Legal for Trade'?
Approved and Legal for Trade mean the same.
7. What do e=d and e=10d mean?
d is the smallest division that a balance or scale can display.
e is the smallest interval on a balance or scale that can be used in a business transaction.
For example, a scale has d = 0.001 g, providing weight results to 3 decimal places. In the case that e=d, the scale can be used in business transactions measuring weight to 3 decimal places (0.001 g). In the case that e=10d, the balance can only be used in business transactions measuring weight to 10 x 0.001 g or 0.01 g.
8. Why does my Legal for Trade scale show the last digit in brackets?
When the e value of the scale is greater than the d value (see previous question) the digit(s) in the weight result that cannot be included in a business transaction are shown in brackets.
9. My scale has d = 0.01 g. Does this mean I can weigh 0.01 g on it?
No. Every weight measurement made on a balance or scale has a degree of uncertainty. When the item being weighed is very small, the error due to the uncertainty becomes large compared to the weight of the item. Every balance has a point, below which the uncertainty is so high that the weight results cannot be deemed to be accurate. This point is known as the minimum weight. This is the smallest weight you can weigh on your balance. The minimum weight is determined by the service technician during calibration. When you require a higher degree of accuracy, the minimum weight value must be increased (this reduces the level of uncertainty).
10. Where can I find out if I need a Legal for Trade or a regular scale?
The first place to check if you need a Legal for Trade balance or scale is your local or country's Weights and Measures authority or Trading Standards office. In the US, the NIST Handbook 44 provides guidance.