Low-Forces, Exceptional Comfort with the LiteTouch System
The Rainin LiteTouch System (LTS) forms a light, perfect seal between the pipette and tips, making tips virtually effortless to eject. 
An Ergonomic Pipetting Experience
The LiteTouch System reduces the amount of force needed to load and eject tips by up to 85%
Seal: the cylindrical-shaped end of the LTS pipette shaft moves easily through a sealing ring at the top of the pipette tip.
Stop: downward motion stops at an inner shelf molded into each tip.
Result: together, these solve the main ergonomic problem with loading and ejecting tips on most other pipettes: excess friction required to form a seal.
All Rainin XLS+ pipettes feature a "stiction-less" sealing system that allows the plunger to slide smoothly from start to finish.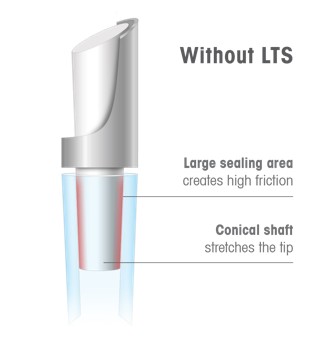 The Problem with "Typical" Pipettes
Repeatedly jamming the tip can lead to RSI's
Typical pipettes have cone-shaped shafts that rely on friction to hold tips firmly. Tips literally stretch to fit around the shaft. So users typically rock or bang the pipette into the tip to achieve a reliable seal.
The problem: the amount of force you use to load a tip is equal to the force required to eject it. And that force is supplied by your thumb.
LTS practically eliminates these forces to deliver much more comfortable pipetting.
Why is LTS the Best for Ergonomic Pipetting?
Pipetting is the most repetitive task in the lab
Pipetting is a high-force activity. Traditional tip ejector forces may exceed 4 kg of force. By requiring less force to load and eject pipette tips, LTS allows researchers to maintain a better bench posture overall. 
Want more ergonomic pipetting advice? Get the Bench Posture: It Matters! poster.
Due to the high force required to form a seal between traditional pipettes and tips, many researchers suffer from hand fatigue that can lead to potentially career-limiting repetitive strain injuries and decreased productivity in the lab. 
Keep those hands in shape! Get the Thumbs Up! laboratory hand care poster.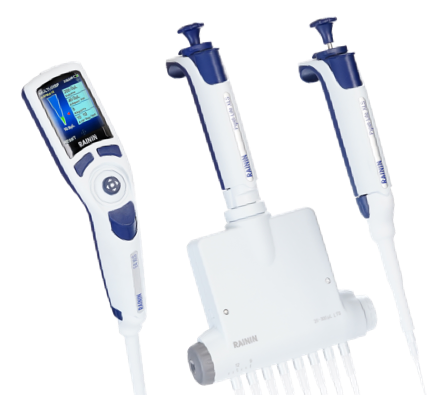 Rainin XLS+ Pipettes with LTS
Pipetting comfort and accurate performance
LTS-equipped Rainin XLS+ pipettes minimize fatigue and significantly reduce the likelihood of developing repetitive strain injury.

Rainin XLS+ pipettes feature:
 Extremely lightweight ergonomic design that fits comfortably in your hand.
 A finger hook that supports the pipette in your hand so you can relax your grip.
Low-drag seals and light springs that provide low plunger forces during aspiration, dispensing and blowout. 
Click here to browse for LTS Pipettes.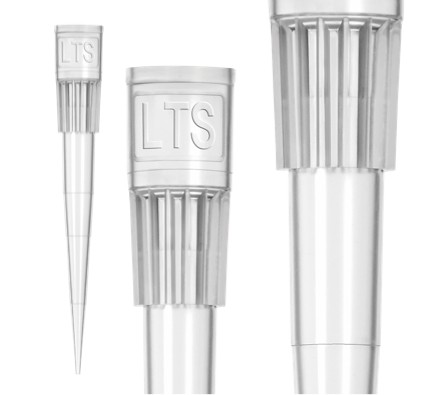 LTS Pipette Tips
The easiest-to-load, easiest-to-eject pipette tips
As interest has blossomed in bringing better pipetting ergonomics to the lab. LTS remains perhaps the most simple, elegant solution to the problems of achieving a perfect tip seal and ejecting tips with very low physical force.
Rainin LTS pipette tips meet the highest cleanliness and purity standards.
Available in volumes from 10 uL – 20 mL.
Standard pipette tips, filter tips, low retention, wide orifice, extended length tips.
Want more information about the ergonomics of pipetting? Download this white paper and check out other content to help you stay healthy in the lab!  on the ergonomic benefits of LTS.
Click here to browse for LTS Pipette Tips.