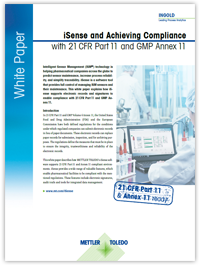 iSense and Achieving Compliance
Intelligent Sensor Management (ISM®) technology is helping pharmaceutical companies across the globe to predict sensor maintenance, increase process eliability, and simplify traceability. iSense is a software tool that provides full control of managing ISM sensors and their maintenanc.
Find out in our white paper how iSense supports electronic records and signatures to enable compliance with 21 CFR Part 11 and GMP Annex 11.