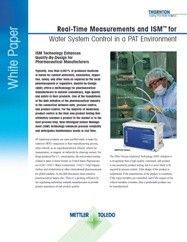 White Paper: Water System Quality Control
The Quality by Design methodology and the Process Analytical Technology initiative help pharmaceutical manufacturers to produce products with consistent quality and to reduce waste and production costs. Central to both QbD and PAT is the connection between data and process control. However, many companies struggle with how to improve production methods based on the data generated. METTLER TOLEDO Thornton understands the difficulties pharmaceutical companies face in adopting QbD and PAT, and complying with pharmacopoeia. This is one reason why Thornton's instrumentation for pharmaceutical-grade water analysis now includes Intelligent Sensor Management (ISM) technology.

"Real-time Measurements and ISM for Water System Control in a PAT Environment" is a white paper that explains how quality assurance benefits from on-line instrumentation and how ISM improves real-time process control.