Traditional calibration methods are time-consuming, expensive and typically result in uncertain accuracy and traceability results. The new and innovative RapidCal™ from METTLER TOLEDO offers an economical Tank Scale Calibration method that is traceable, and achieved without using test weights or purified liquids. Additionally, by eliminating the expensive and risky process of material substitution, the chance of tank interior contamination is also eliminated.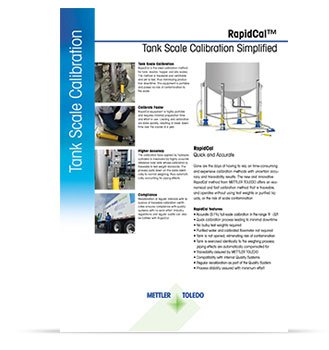 RapidCal™ Tank Scale Calibration features
Accurate (0.1%) full-scale calibration in the range 1t – 32t
Quick calibration process, minimal downtime
Test weights not required
Purified water and calibrated flowmeter not required
Tank is not opened, no risk of contamination
Tank is exercised identically to the weighing process; piping effects are automatically compensated for.
Traceability assured by METTLER TOLEDO
Compatibility with internal Quality Systems
Regular recalibration as part of the Quality System
Process stability assured with minimum effort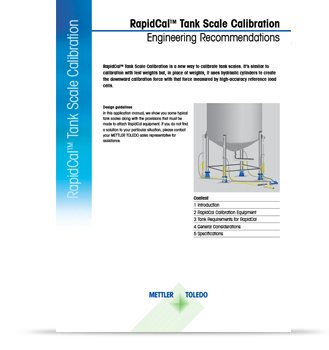 Calibrate Faster 
RapidCal™ Tank Scale Calibration equipment is highly portable and requires minimal preparation time and effort in use. Loading and calibration are done quickly, resulting in lower downtime over the course of a year. How much would your business save by reducing production shutdowns for calibration?
High Accuracy

The calibration force applied by hydraulic cylinders is measured by highly accurate reference load cells whose calibration is traceable to test weight standards. The process pulls down on the scale identically to normal weighing, thus automatically accounting for piping effects.
Design Guidelines
In the Engineering Recommendations application manual some typical tank scales are shown along with the provisions that must be made to attach RapidCal equipment.
The Engineering Recommendations will be provided by your METTLER TOLEDO sales representative
How the innovative RapidCal™ Tank Scale Calibration is performed
A new age has arrived in tank weighing. Join the revolution and make your tanks ready for RapidCal™ Tank Scale Calibration to achieve a new level of accuracy and reduce significantly the calibration costs. 7 rock solid reasons to choose RapidCal:
Cost reduction
Ease of Process

Faster calibration process 

Zero contact with tank content 
Compliance with Quality Systems
Accurate tank calibration

Traceable calibration

What is RapidCal™ Tank Scale Calibration?
RapidCal™ is a new, innovative way of tank scale calibration. Instead of using test weights, or filling material in the tank, the downward force is applied by hydraulic equipment. The loading of the tank scale during RapidCal™ is the same as during normal operation, meaning piping influences are accounted for. 
When should I use RapidCal™?
RapidCal™ can be used for tank scales in the 1 – 32 ton capacity range, whenever the Quality System, internal or external regulations demand the regular calibration of the production and storage facilities. If there is no such requirement, but you still want to know the performance of your tank scale, RapidCal™ is the right method. It is fast and easy, the calibration is finished in a few hours. 
What are the benefits?
RapidCal™ reduces production downtime to only a few hours, then production can be continued, and lost profit is minimized. RapidCal™ does not require expensive calibration material such as purified water. The force is applied externally; the tank interior is not interfered with, no cleaning of the tank before and after the calibration is needed. RapidCal™ is accurate, and results in a traceable certificate, which complies with Quality System requirements. 
How is the calibration executed?
The calibration is completed by a member of the METTLER TOLEDO service team. The RapidCal™ equipment is attached to the anchor points on the tank and on the foundation. Force is applied by hydraulic equipment and measured with reference load cells. The value on the recalibration terminal is compared to the tank scale terminal. If needed, the tank scale is adjusted. For details watch the video. 
How is the force applied?
The force is applied with the help of hydraulic cylinders and hand pump. The RapidCal™ Modules are connected to anchor points on the tank and on the foundation. The hydraulic pull cylinders are part of the calibration modules, which are pressurized by the hand pump and they generate the downward force. 
Why is RapidCal™ better than calibration with flowmeter ?
RapidCal™ has many benefits over calibration with flowmeter. It is much faster, no expensive material is needed (like purified water), the tank content is not touched, and RapidCal™ doesn't require long production stops. 
How does it reduce production downtime?
Schedule the tank scale calibration with the METTLER TOLEDO service team for the time when your tank is anyways empty, and RapidCal™ is performed within a few hours.
What do I need to do to make my tank scales ready for RapidCal™?
Contact your METTLER TOLEDO sales representative for the Engineering Recommendations document. It contains detailed description of the RapidCal™ method and has many examples showing different tank installations. We also provide a CAD drawing package which can be readily used during the tank design phase.
Is it possible to upgrade my existing tanks for RapidCal?
There is no straightforward answer, much depends on the installation, available information, original drawings etc. Please contact us, and our technical experts will help you to answer this question.
Is RapidCal™ more accurate than calibration with test weights?
Calibration with test weights is still the most accurate. The advantage of RapidCal™ compared to test weights is the speed, it is much faster but still with very good accuracy.