For decades operations have dealt with time consuming, cumbersome and costly calibration methods for their tank scale systems. For many, this meant delaying calibration as long as possible, until it was absolutely necessary.
RapidCal™ eliminates traditional tank calibration headaches – allowing for quick and easy calibration, and consistent compliance.
Download the eBook to see how RapidCal could improve your operation!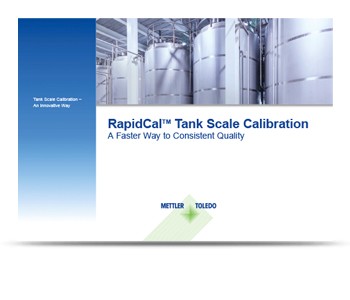 RapidCal: What You Need to Know
RapidCal is an innovative way to calibrate tank scales. It uses a downward force simulated with hydraulics which are attached to the outside of the scale. This method eliminates the need to transport heavy test weights, or go through the expensive process of draining and cleaning tanks for material substitution calibration.
By equipping your tanks with the ability to RapidCal calibrate, you gain:
Huge cost savings
Higher uptime
Reduced contamination risk
Streamlines compliance
Download the eBook for a one-to-one comparison of RapidCal to alternate methods!
Want to Learn More about RapidCal?
Interested in updating your equipment to be RapidCal compatible? Our team of engineering experts can help determine what is required for your operation. Visit the product page and request a consultation today!