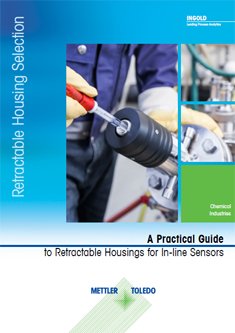 Retractable Housings Guide
Retractable housings come in different shapes and sizes and offer different functionalities. So selecting the right housing is not always easy. Depending on your industry and process, it's crucial to decide on the appropriate one. This retractable housings guide shows you what to consider when selecting a housing, making the process easier and ensuring you won't choose the wrong piece of equipment.
Highlights of the retractable housings guide include:
What to consider when selecting a housing, enabling fast selection of the appropriate solution for your application
The main differences between the various METTLER TOLEDO retractable housing options and each of their benefits
 

METTLER TOLEDO provides a wide range of complete in-line process analytical solutions that make your processes more efficient, more productive, and safer. Our advanced retractable housings are not only designed to protect sensors, they also withstand the toughest conditions, prevent escape of process media, and enable sensor maintenance and exchange without process interruption.
The METTLER TOLEDO retractable housings are available in a variety of models to suit specific processes, and user and industry requirements. The housings are designed for use in a wide range of harsh industrial processes. Wetted parts are available in different materials, offering installation flexibility in many applications. Locking systems on the housings prevent deployment of the insertion rod if no sensor is present. The InTrac series of housings can be operated with EasyClean systems for automatic sensor cleaning, flushing, and calibration. With the housings' internal rinsing chamber, sensors can be thoroughly and quickly cleaned whenever required.
InTrac housings are designed to work seamlessly with METTLER TOLEDO's leading-edge sensors, transmitters and automatic sensor cleaning / calibration systems: giving you greater confidence in your process analytics.