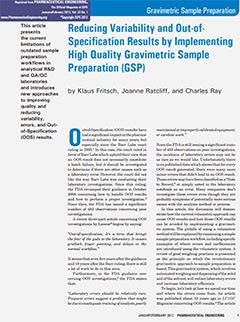 OOS gravimetric sample preparation
Out-of-Specification (OOS) investigations in analytical R&D and QA/QC laboratories are costly and time-consuming. Although analytical instrumentation has seen impressive innovations in speed and efficiency over the last 10 years, sample preparation techniques have remained virtually unchanged for the past 75 years.
Sample preparation is now reported to be the most time-consuming, labour-intensive and error-prone part of the workflow, with some 50% of OOS errors attributed to either sample processing steps or human error.
Download the reviewed article and learn how Automated Gravimetric Sample Preparation (GSP) in conjunction with the application of state-of-the-art weighing guidelines (Good Weighing Practices) helps you reduce OOS results.