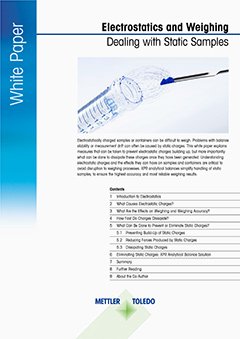 Electrostatic Charges
Electrostatically charged samples or containers can be difficult to weigh. Static charges can cause unstable balance readings and measurement drift, leading to slow and inaccurate weighing results. Understanding what causes electrostatic charges during weighing, and how to avoid or eliminate them, is critical to avoiding disruption to weighing processes.
This white paper covers everything a balance user needs to know about electrostatic charges during weighing:
What causes electrostatic charges and how long they will be present;
The effects of static charges on the weighing process and how to recognize them;
How to prevent or reduce electrostatic forces; and
A comparison of solutions for detection and elimination of electrostatic charges.  
What are the effects of electrostatic charges on weighing and weighing accuracy?
Electrostatic charges during weighing - influences
A negative charge on the measuring flask and a positive charge on the balance housing cause a force to be exerted between the balance and the vessel. The vertical component of this force adds to the weight of the flask and influences the weighing result.
The effects on the weighing accuracy could be:
The reported value could be more or less than the real weight
Errors in the range of 1-100 mg have been observed
State-of-the-art XPR analytical balances simplify the handling of static samples, ensuring the highest accuracy and most reliable weighing results. They are equipped with Automatic Static Detection technology - StaticDetect™ - a patented innovation to help balance users avoid weighing problems caused by electrostatic charges.
DETECT: StaticDetect™ works on the principle of using a sensor to automatically detecting the presence of an electrostatic charge on the tare container and/or sample., as well as measuring the magnitude of this effect on the weighing result. 
ELIMINATE: If static charges are detected within the balance, an internal ionizer module is automatically activated in order to eliminate the charges present on the sample and container.