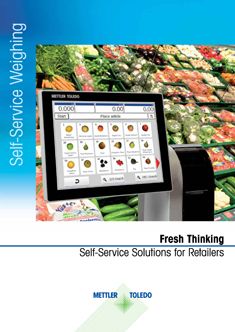 Self-Service Weighing Competence Brochure
Quick. Convenient. Incredibly simple to use. Innovative self-service concepts impress your customers by offering an enjoyable shopping experience from start to finish. Win over your customers with user-friendly technology and more speed at the checkout. 
Market research predicts significant growth for self-service checkouts
Trend for self-service checkouts and automated self-service checkout processes shifts labeling to the fresh department; this means simpler, quicker payment as produce does not have to be weighed at the checkout
Greater service and more service offers at the self-service scales
Produce variety increases, as does complexity in the fresh department; modern self-service concepts ensure that the range of produce is manageable for the customer
Increasing shopper loyalty becomes more and more important
Set trends. Seize opportunities in self-service weighing.
Innovation is the result of fresh thinking. The creative spark that generates something new – something very unique. Rediscover self-service with METTLER TOLEDO with a variety of fresh ideas for your fresh produce.