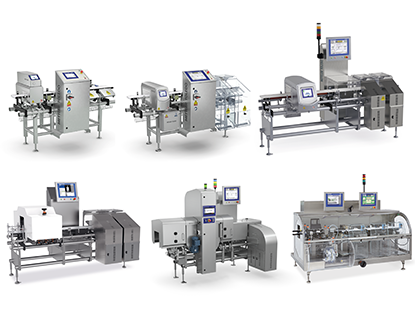 5 Reasons to choose Checkweighing Integrated Solutions
Think integrated! Production line space is becoming increasingly precious across all industries, driving the need for powerful, space-saving solutions. METTLER TOLEDO's broad portfolio of combination solutions delivers machines with very small footprints, combining two or more inspection technologies.
What are the main benefits of a METTLER TOLEDO integrated system?
Complete range of systems from entry level to customized solutions, integrating checkweighing with metal detection, x-ray and vision inspection technologies
Adherence to local weighing regulations and full compliance with retailer standards in one machine
Production line space savings and easy line integration with one compact, robust and cost-effective machine integrating multiple technologies
Machine design with only 4 feet on the floor enables easy cleaning
One service technician can service the integrated device, delivering cost savings and reducing downtime
Why should I buy a METTLER TOLEDO integrated solution?
METTLER TOLEDO's offering of integrated solutions is unique in the industry, as we are the only provider able to combine four inspection technologies: Checkweighing, Metal Detection, X-ray and Vision Inspection. Decades of expertise gained from close co-operation with our customers have led to future orientated systems that offer a pool of configuration possibilities – all of which are based on proven solutions.

Our resonance absorbing C-Series frame with only four feet on the floor and the extremely small footprint distinguish us from the competition and offers true benefits - now and in the future. The METTLER TOLEDO global service support network ensures expert support wherever you are, whenever you need it.