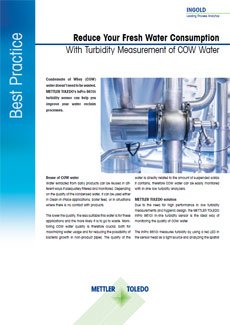 COW Water Turbidity Measurement
Condensate of Whey water – COW water – extracted from dairy products during production usually goes to waste. But a lot of the COW water is clean enough that it can be used in processes such as in Clean-in-Place (CIP) applications and as boiler feedwater.
Monitoring the turbidity of COW water is an efficient way of determining if the water is suitable for reuse or should be sent for waste purification. The output from a low turbidity, in-line sensor can be used to switch a valve to divert COW water to storage tanks or waste tanks.
 
METTLER TOLEDO Process Analytics has a portfolio of in-line sensors, housings, and transmitters for dairy industry applications. The InPro 8610i in-line turbidity sensor is the ideal way of monitoring COW water quality. This high performance sensor measures turbidity by using an LED in the sensor head as a light source and analyzing the distribution of scattered light created by the suspended particles in the COW water.
For the particle size found in COW water the sensor's 25° angle of detection is most suitable. A second measurement, of direct light, enables compensation for background color changes, light source intensity changes, and possible optical window fouling. The measurement system is completed with an M800 multi-parameter transmitter.
The InPro 8610i contains METTLER TOLEDO digital Intelligent Senor Management (ISM) technology for simplified sensor handling and operation. ISM's Plug and Measure feature means that the sensor is ready to use as soon as it is connected to the M800 transmitter. Advanced predictive diagnostics monitor the sensor's status at all times.
Thanks to the InPro 8610i's sapphire optical windows and absence of O-rings, the sensor is almost maintenance free.