May 23, 2016 - Giessen
Ariva, METTLER TOLEDO's new generation of POS scales, optimizes customer service in the checkout zone thanks to rapid weighing processes and reliable performance. The company is now introducing a model for integration into horizontal scanners: Ariva-H.
As the newest member of METTLER TOLEDO's Ariva family of checkout scales, Ariva-H offers retailers everything they need to keep their POS processes running efficiently. Extremely short response times and faster data flows between the Ariva-H scales and the POS systems speed up the weighing process in the high-pressure checkout zone. Ariva-H is guaranteed to achieve outstanding transaction speeds¬, thus keeping queuing time for shoppers short, while offering maximum ergonomic convenience to employees.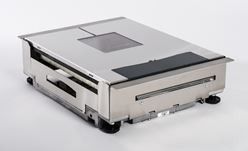 METTLER TOLEDO introduces the Ariva-H checkout scale
Robust design
Ariva-H is constructed to withstand the demanding everyday conditions in the checkout environment and deliver reliable weighing results every time. Its robust design successfully protects the internal components and weighing technology against adverse effects due to dirt or liquids, while the use of high-quality materials such as stainless steel and aluminum prevents corrosion and ensures maximum operational uptime over the long term.
Flexible and unassuming
With its dual-interval weighing module, Ariva-H offers a high maximum load of up to 15 kg combined with a very fine weight solution of 2 g for delicate, high-value products. Furthermore, thanks to its compact size, Ariva-H is extremely suitable for smaller spaces where bi-optical scanners would be too big or would detract from the interior store design.

Energy-saving and eco-friendly
As with all other models in the Ariva series, Ariva-H is characterized by extremely low energy requirement. METTLER TOLEDO has succeeded in reducing the power consumption of its Ariva models to less than half the energy required by standard POS scales. This helps grocery retailers to lower their operating costs while also contributing to their sustainability objectives.

Maximum connectivity
In addition to the standard RS-232 interface, the METTLER TOLEDO Ariva-H also has a USB 2.0 interface. As a result, the scale can be connected to most POS systems plus many other applications that require weight data. Moreover, METTLER TOLEDO's entire Ariva portfolio is based on the same software, making it easy for retailers to integrate the system. Ariva-H is compatible with scanners from all major manufacturers including Datalogic, Motorola/Zebra and NCR.