FreshWay T
Freshen Up Your Front Line For Bottom Line Results
FreshWay Tower is the new METTLER TOLEDO touchscreen scale that meets the highest demands of ambitious food retailers. FreshWay T combines award-winning design with perfect performance to set new standards in weighing convenience and customer service.
Grocery retailers who choose FreshWay T are assured of high-performance and future-proof state-of-the-art weighing technology. FreshWay T presents an impressive range of custom-designed weighing features for a multitude of retail environments – whether at supermarket service counters, in backrooms and in self-service weighing departments or combined with a POS solution in hot food outlets or deli stores.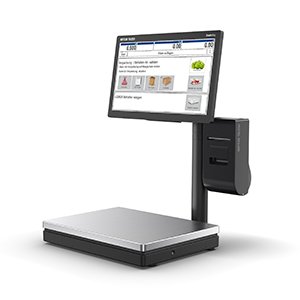 Specifications - FreshWay T
| | |
| --- | --- |
| Description | All-in-one, PC-based POS solution |
| Performance | Intel® Dual Core-Processor |
| Operator Display and Keyboard | 12.1" (30.7 cm) touchscreen with LED backlight, 800 x 600 px (1024 x 768 px optional) resolution. Optional 15.6-inch (39.6 cm) display available, 1366 x 786 px resolution |
| Data Storage | DDR3 RAM; Solid State Disk (SSD) |
| Printing speed | Up to 150 millimeters/second |
| Operating systems | Microsoft Windows® 10 IoT 64-bit, openSUSE 42.2 64-bit |
| Networked | Wireless or wired options |
| Capacity | 3 kg/6 kg; 6 kg/15 kg |
| Design | Small footprint, clean lines, and slender silhouette |
| Material Number(s) | 30301471 |
Features and Benefits
Trend-Setting Design
With its contemporary yet timeless design, FreshWay T sets a new standard in terms of creating the perfect sales image – as recognized by the Red Dot: Best of the Best award. FreshWay T's impressively clean lines create a pure and simple shape and a slender silhouette that avoids obstructing the line of sight and hence enhances an open and pleasant shopping atmosphere.


FreshWay T
Functional Housing
FreshWay T has a very small footprint. With a non-stick surface that repels dirt, smooth adjustable support feet and a lack of gaps and edges, the FreshWay T design concept is consistently focused on hygiene and practical functionality to make everyday life easier for food retailers.

FreshWay Tower PC scale
In-Store Marketing
FreshWay T stimulates fresh food impulse buys thanks to its impressive power reserves which support graphics-intensive digital signage campaigns at the point of sale. The bright 12.1-inch customer display is the ideal media platform for increasing sales success with sales-boosting promotions and compelling branding campaigns.


FreshWay T
Documentation