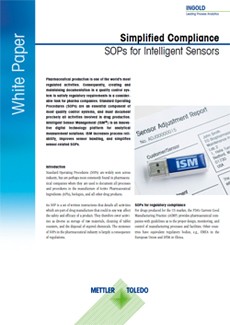 SOPs for Intelligent Sensors
Standard Operating Procedures (SOPs) are vital in pharmaceutical companies, as processes and procedures for manufacturing Active Pharmaceutical Ingredients (APIs), biologics, and other drug products must be fully documented and compliant.
Creating and maintaining documentation in a quality system to satisfy regulatory requirements and pharmaceutical compliance, is a considerable task. It requires a significant amount of a pharmaceutical company's resources, time, and effort. Consequently, there is great reluctance to modify SOPs when manufacturing departments require a process change.
SOPs for process analytics can be simplified considerably if Intelligent Sensor Management (ISM) technology is used in a facility. ISM is METTLER TOLEDO's digital sensor platform that offers substantial benefits, including predictive diagnostics and sensor calibration away from the process.
Converting from analog to digital ISM sensors requires no significant alteration to SOPs, as is described in this white paper.
The white paper also covers the following topics:
SOPs for regulatory compliance
pH sensor calibration away from the process
Simplified compliance with ISM
Easier procedures and simpler documentation
Error-free measurement point start-up
ISM is a digital technology for process analytical sensors. It includes advanced diagnostic tools that provide information on sensor condition in real time, allowing easy decision making relating to sensor usage. With ISM, process reliability is increased as process parameter values are directly calculated inside the sensor and sent digitally to the transmitter. Additionally, ISM reduces maintenance as the sensors tell you when they will need to be maintained or replaced. Thanks to lower maintenance, ISM significantly cuts operating expenditure. For pharmaceutical companies, ISM sensors and transmitters result in simplified management for regulatory compliance, increased process reliability, and easier sensor handling.