Press Release: Taking Weighing to New Limits: XPR Micro and Ultra-micro Balances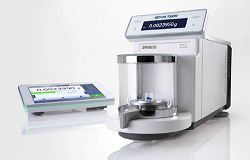 The XPR microbalance line takes the worry out of weighing in the micro-range with active quality assurance features that ensure you get valid results – every time
Greifensee, Switzerland—December 2, 2018—Notable in this line is XPR6UD5, the first ultra-micro balance on the market. It offers a 0.5 microliter resolution and 25 percent better repeatability than traditional microbalances, allowing you to decrease sample sizes while maintaining accuracy. It can therefore reduce ongoing processing costs for companies where a further decrease in sample sizes can conserve rare or precious resources.
The winning blend of resolution, repeatability and range is created using innovations such as Active Thermoelectric Cooling (ATC). ATC draws heat that can disrupt balance stability away from the weighing mechanism. The addition of METTLER TOLEDO's ongoing quality-assurance feature GWP Approved automatically checks tests, adjustments, leveling and settings prior to weighing to help eliminate errors. 
Usability is delivered by a small bench print and new user interface that, similar to a smartphone, allows users to swipe for programming and running tasks. A built-in notepad simplifies documentation, while individual methods can be stored and accessed via icons, saving time and enhancing security. Tolerance profiles also ensure that weighing tasks meet defined process requirements and applicable regulations.
Additional XPR design benefits include a new weighing pan for easier cleaning, USB data-transfer for quick export of task parameters or results, and a two-screen system that allows the main touchscreen to be placed wherever it is most ergonomic and convenient.
Taken together, XPR's productivity-enhancing features and repeatable micro-range weighing allows it to create a new level of productivity.
To learn more about how XPR balances take the worry out of micro-range weighing and ensure you get valid results every time, click here.
About METTLER TOLEDO

METTLER TOLEDO is a leading global supplier of precision instruments and services. The Company is the world's largest manufacturer and marketer of weighing instruments for use in laboratory, industrial and food retailing applications. METTLER TOLEDO also holds top-three market positions in several related analytical instruments and is a leading provider of automated chemistry systems used in drug and chemical compound discovery and development. In addition, the Company is the world's largest manufacturer and marketer of metal detection and other end-of-line inspection systems used in production and packaging and holds a leading position in certain process analytics applications. Additional information about METTLER TOLEDO can be found at  www.mt.com

Press Contact:
METTLER TOLEDO GmbH
Laboratory Weighing
Branko Radovinovic
Head of Communications Laboratory Weighing
Im Langacher 44, 8606 Greifensee, Switzerland
Tel.: +41 44 944 20 39
Email: branko.radovinovic@mt.com
For Word file and Images please contact us.