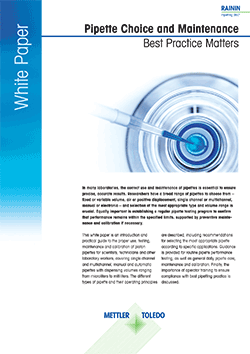 Pipette Choice and Maintenance
This white paper is an introduction and practical guide to the proper use, testing, maintenance and calibration of piston pipettes for scientists, technicians and other laboratory workers, covering single channel and multichannel, manual and automatic pipettes with dispensing volumes ranging from microliters to milliliters.
The different types of pipette and their operating principles are described, including recommendations for selecting the most appropriate pipette according to specific applications.
Guidance is provided for routine pipette performance testing, as well as general daily pipette care, maintenance and calibration.