SevenGo Duo pH/Ion/DO meter SG98
Unlimited options.
Smart multi-parameter hand-held meter
A high precision dual-channel pH/ optical DO meter for simultaneous analysis of two electrochemical parameters. Easy text guided operation.
Designed to withstand harsh environments
Robust and watertight for use in demanding conditions. Efficiency thanks to unique ergonomics and simple operation.
Avoid mistakes and save time with ISM®
Intelligent Sensor Management (ISM) identifies the sensor in use. The current calibration data are stored on the sensor. Mistakes are eliminated.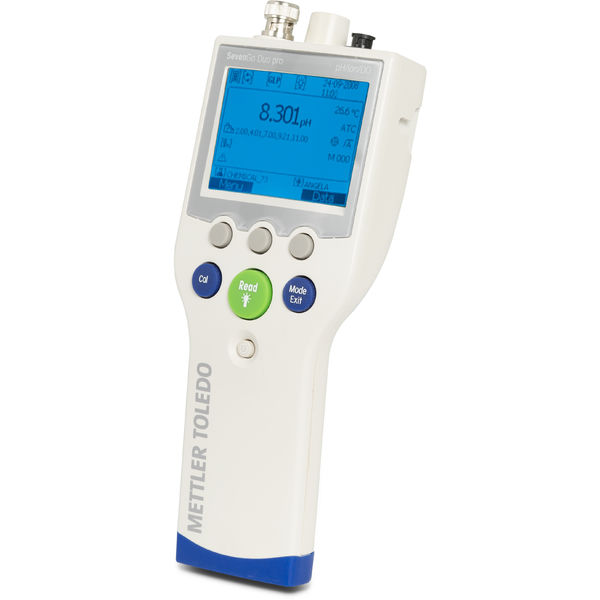 Specifications - SevenGo Duo pH/Ion/DO meter SG98
| | |
| --- | --- |
| Parameter | pH; DO; Ion; ORP |
| Channel | Dual-channel |
| Version kit | Meter only |
| pH measuring range | -2 – 19.999 |
| pH resolution | 0.001; 0.01; 0.1 |
| pH accuracy (±) | 0.002 |
| Ion concentration measuring range | 1.00E-9 – 9.99E+9 |
| Ion concentration resolution | 3 digits (depending on unit) |
| Ion concentration accuracy (±) | 0.5 % |
| DO measuring range | 0.000 – 50 mg/L (ppm) |
| DO resolution | 0.01mg/L (ppm) |
| DO accuracy (±) | ± 0.1 mg/L from 0 – 8; ± 0.2 mg/L from 8 – 20; ± 10% from 20 – 50 |
| mV measuring range | 0 |
| mV resolution | 0.1; 1 |
| mV accuracy (±) | 0.1 |
| Temperature Range | -30 °C – 130 °C |
| Temperature Resolution | 0.1 °C |
| Temperature accuracy (±) | 0.2 °C |
| Portable | Yes |
| Security and compliance | GLP; Password protection; User management |
| ISM support | Yes |
| Memory size | 500 measurements |
| Data Transfer | PC; Printer |
| Protection Rating | Watertight and dustproof (IP67) |
| Material Number(s) | 51302661 |
Parameter:pH; DO; Ion; ORPParameter:pHParameter:DOParameter:IonParameter:ORPChannel:Dual-channelChannel:Dual-channelVersion kit:Meter onlyVersion kit:Meter onlypH measuring range:-2 – 19.999pH measuring range:-2 – 19.999pH resolution:0.001; 0.01; 0.1pH resolution:0.001pH resolution:0.01pH resolution:0.1pH accuracy (±):0.002pH accuracy (±):0.002Ion concentration measuring range:1.00E-9 – 9.99E+9Ion concentration measuring range:1.00E-9 – 9.99E+9Ion concentration resolution:3 digits (depending on unit)Ion concentration resolution:3 digits (depending on unit)Ion concentration accuracy (±):0.5 %Ion concentration accuracy (±):0.5 %DO measuring range:0.000 – 50 mg/L (ppm)DO measuring range:0.000 – 50 mg/L (ppm)DO resolution:0.01mg/L (ppm)DO resolution:0.01mg/L (ppm)DO accuracy (±):± 0.1 mg/L from 0 – 8; ± 0.2 mg/L from 8 – 20; ± 10% from 20 – 50DO accuracy (±):± 0.1 mg/L from 0 – 8DO accuracy (±):± 0.2 mg/L from 8 – 20DO accuracy (±):± 10% from 20 – 50mV measuring range:0mV measuring range:0mV resolution:0.1; 1mV resolution:0.1mV resolution:1mV accuracy (±):0.1mV accuracy (±):0.1Temperature Range:-30 °C – 130 °CTemperature Range:-30 °C – 130 °CTemperature Resolution:0.1 °CTemperature Resolution:0.1 °CTemperature accuracy (±):0.2 °CTemperature accuracy (±):0.2 °CPortable:YesPortable:YesSecurity and compliance:GLP; Password protection; User managementSecurity and compliance:GLPSecurity and compliance:Password protectionSecurity and compliance:User managementISM support:YesISM support:YesMemory size:500 measurementsMemory size:500 measurementsData Transfer:PC; PrinterData Transfer:PCData Transfer:PrinterProtection Rating:Watertight and dustproof (IP67)Protection Rating:Watertight and dustproof (IP67)
Accessories
Consumables
Dissolved Oxygen Electrode
Dissolved Oxygen Standard
Laboratory pH Buffer
Laboratory pH Sensor
ORP Buffers
pH Accessories
pH Electrolyte and Maintenance Solutions