Solution for Ion Selective Electrodes
Comprehensive Range of Solutions for Ion Selective Electrodes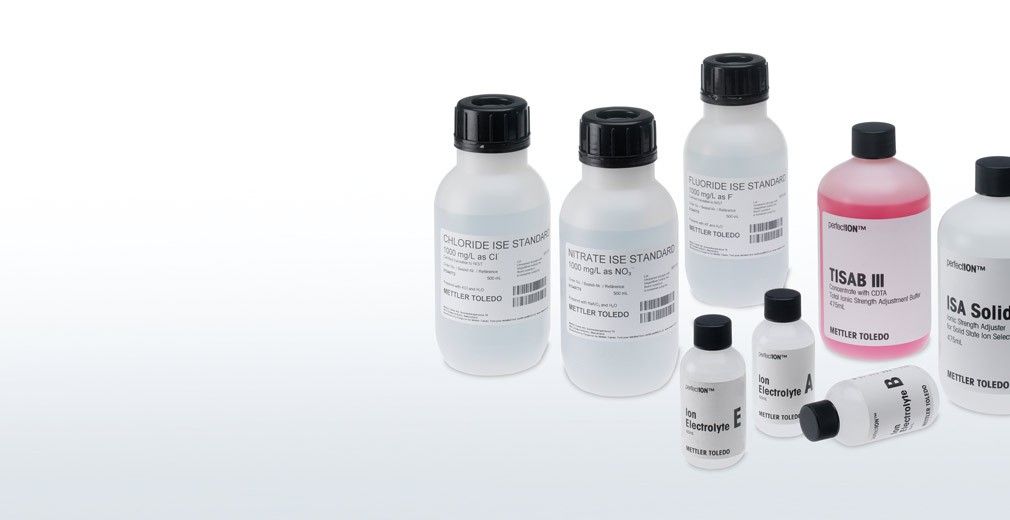 Ready-to-Use Ion-Selective Standard Solutions
METTLER TOLEDO offers all solutions that are needed for successful ion measurements. Find ready-to-use ion calibration standards, ionic strength adjustors and electrolytes.
With our ready-to-use calibration standards, no weighing or diluting is required. The most common standards are available in concentrations of 10, 100 and 1000 mg/L (ppm).
ISE Theory Guide
Find more information on measuring ion concentration with our sensors and standards in our ISE Theory Guide.
Download the guide here
Compliance with GHS
Remaining compliant with regulations is important. All of our SDS (Safety Data Sheet) and labels contain information according to GHS (Global Harmonized System) in local languages.
Download your SDS here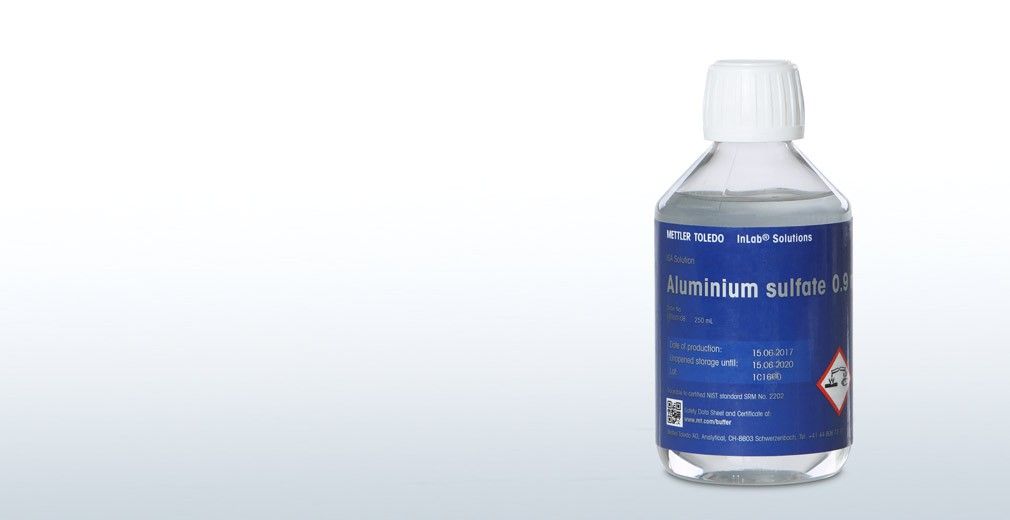 Ionic Strength Adjustors for High Repeatability
Ion selective measurements are dependent from the ionic strength of the sample. An ionic strength adjuster (ISA) is added to all standards and to all samples to reduce the margin of error due to ionic strength variations in the samples. The use of these especially for the perfectION™ electrodes developed ISA-solutions ensures that the ion selective electrode measure the concentration of the desired ion and not the total ionic activity of the sample.

GEP - Good Electrochemistry Practice
Quality data begins with quality buffers. Buffers that have been exposed to air and contamination can cause pH values to gradually change, making calibrations less accurate. Follow our Good Electrochemistry practice hygiene tips to ensure your pH system is in good health.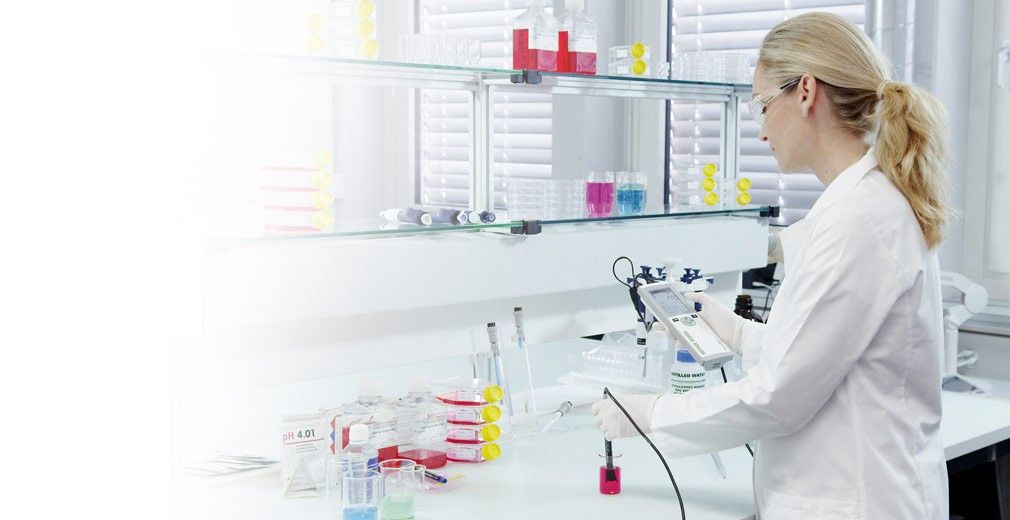 Complete Electrochemistry System
pH measurement does not depend only on your pH meter. All components in your system must be working at their best to provide reliable results.
Ensure your electrochemistry system is complete by choosing the right sensor, solutions and installation services for your specific needs.

Meters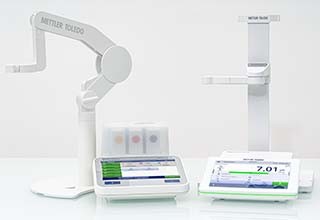 To fit your electrochemistry system needs, we offer a variety of benchtop and portable meters that are professional and durable. Our portfolio offers products designed for compliance, routine measurements or anyone working on a tight budget.
Benchtop Meters
Portable Meters
Sensors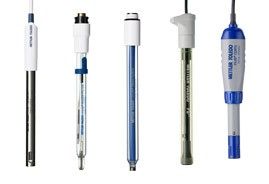 The complete InLab sensor portfolio covers the whole scope of ISE applications. These range from routine measurements to specialist applications. To find your perfect match, visit our Sensor Product Guide today for an interactive way to the right sensor
Sensor Product Guide
Service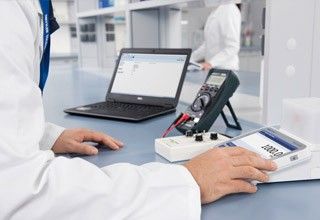 We offer different service packages depending on your needs. These range from professional on-site installation and configuration to documented proof of compliancy. If full coverage beyond initial warranty is desired, we offer an extended care package in the form of preventive maintenance and repair.
More about Service
Products and Specs
Documentation
Product Brochures

The determination of pH, conductivity, ion concentration, redox potential and dissolved oxygen are common analyses in most laboratories. The measure...
Services
Explore our Services - Tailored to Fit your Equipment
We support and service your measurement equipment through its entire life-cycle, from installation to preventive maintenance and calibration to equipment repair.
FAQ
What is an Ion Selective Electrode?
Measuring with ion-selective electrodes (ISE) is the easiest and most affordable way to determine ion concentration. However, ISEs require careful handling and the use of the correct solution for ion selective electrodes. METTLER TOLEDO offers all solutions that are needed for successful ion measurements.
Which solutions do I need for Ion Selective Electrodes?
METTLER TOLEDO offers all solutions that are needed for successful ion measurements. Find ready-to-use ion calibration standards, ionic strength adjustors and electrolytes.
Ready to Use Ion Calibration Standards
A high precision solution for ion selective electrodes can be ordered at concentrations of 1000, 100 and 10 mg/L (ppm). In case a lower concentration is needed it can easily be prepared with serial dilution that is explained in the electrode manual.
Ionic Strength Adjustors for High Repeatability
In all analytical procedures using an ISE, the correct amount of ISA (Ionic Strength Adjustor) must be added to all samples and standards prior to measurement or calibration. This solution ensures that samples and standards have similar and constant ionic strength. Instructions for type and amount of ISA can be found in the manual of every ISE.
Electrolytes for Any Application
It is important to fill the reference electrode of every ISE with the recommended electrolyte solution. The correct electrolyte will minimize junction potentials and provide optimum temperature and time response. The electrolyte must be refilled or replaced regularly in order to achieve good electrode performance. For more information please refer to the electrode manual.