Chip Calorimetry (Flash DSC)
Flash Differential Scanning Calorimetry is the ideal addition to conventional DSC
Flash Differential Scanning Calorimetry (Flash DSC)

Flash DSC 2+

Differential Scanning Calorimetry, DSC, is the most important method in thermal analysis. It measures the heat flow ...


Flash DSC 2+

Differential Scanning Calorimetry, DSC, is the most important method in thermal analysis. It measures the heat flow to or from a sample as a function of temperature or time and thereby allows physical transitions and chemical reactions to be quantitatively measured.

Flash Differential Scanning Calorimetry revolutionizes rapid-scanning DSC.

The Flash DSC 2+ can analyze reorganization processes that were previously impossible to measure. The Flash DSC 2+ is the ideal complement to conventional DSC. Heating rates now cover a range of more than 7 decades.

The Flash DSC 2+ allows you to prepare samples with defined structures such as occur during rapid cooling in injection molding processes. The application of different cooling rates influences the crystallization behavior and structure of the sample. The use of high heating rates enables materials to be analyzed without interference from reorganization processes – there is no time for such processes to occur.

Flash Differential Scanning Calorimetry is also the ideal method for studying crystallization kinetics.

In conventional DSC instruments, the sample is measured in a crucible in order to protect the sensor. The heat capacity and thermal conductivity of the crucible however have a significant influence on the measurement. In the Flash DSC 2+, the sample is placed directly onto the MultiSTAR chip sensor. The patented dynamic power compensation control circuit allows measurements to be performed with minimum noise level at high heating and cooling rates.

Complete thermal analysis system

A complete thermal analysis system comprises four different measurement techniques. Each characterizes the sample in a different way. The combination of all the results simplifies interpretation. Besides heat flow measurements using DSC or Flash DSC, the other instruments measure weight loss (TGA), change in length (TMA) or the mechanical modulus (DMA). All these quantities change as a function of temperature.

Flash Differential Scanning Calorimeter (Flash DSC)
Flash DSC 2+
The Flash DSC 2+ revolutionizes rapid-scanning DSC. The instrument can analyze reorganization processes that were previously impossible to measure. The Flash DSC 2+ is the ideal complement to conventional DSC. Heating and cooling rates now cover a range of more than 7 decades.

Take advantage of the fastest commercially available DSC – perfect for studying rapid crystallization and reorganization processes in a temperature range from –95 to 1000 °C.
The ultra-high heating and cooling rates add a new dimension to the study of thermally induced physical transitions and chemical processes, for example, the crystallization and reorganization of polymers, metals and other materials.
Ultra-high heating and cooling rates
The use of high heating rates enables materials to be analyzed without interference from reorganization processes – there is no time for such processes to occur. Flash Differential Scanning Calorimetry is also the ideal method for studying crystallization kinetics.
Fast response sensor
In the Flash DSC 2+, the sample is placed directly onto the MultiSTAR chip sensor. The patented dynamic power compensation control circuit allows measurements to be performed with minimum noise level at high heating and cooling rates. The Flash DSC 2+ is operated using either of the two MultiSTAR sensors (UFS 1 or UFH 1) mounted on a stable ceramic substrate with electrical connections.
User-friendly ergonomics and functionality
The preparation and insertion of a sample is performed sitting comfortably in front of the instrument. The sample is first cut to size on a small glass microscope slide placed over the sensor. A suitable sample specimen is then transferred directly to the sensor and positioned using a hair.
Products and Specs
Products and Specs
Cooling Rate (/min)
Heating Rate (/min) –
Cooling Rate (/min)6 K – 2,400,000 K
Heating Rate (/min) –6 K – 3,000,000 K
Documentation
Product Brochure

Differential Scanning Calorimetry (DSC) is the most important method in thermal analysis. It measures the heat flow to or from a sample as a function...
Services
Explore our Services - Tailored to Fit your Equipment
We support and service your measurement equipment through its entire lifecycle, from installation to preventive maintenance and calibration to equipment repair.
Applications
New Applications, Review of Analytical Topics, Practical Tips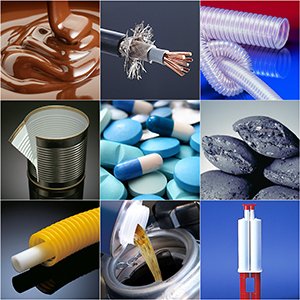 Thermal Analysis Applications
Advanced Search Overview
The future of thermal analysis
Hundreds of interesting articles on thermal analysis are now available from METTLER TOLEDO. They describe new applications, review analytical topics or give practical tips on how to perform and evaluate measurements. The articles have been taken from UserCom, our bi-annual technical customer journal, and from our comprehensive application handbooks.
Take advantage of METTLER TOLEDO's more than 40 years of experience in thermal analysis
Nov 28, 2019
Dec 04, 2019
Dec 12, 2019
Jan 30, 2020
Feb 06, 2020