IND890SQC-Desk
Statistical Quality Control.
Ensure Consistency
The IND890-10 terminal offers the SQC-890 application that controls the consistency of net content to ensure constant high quality in the production process.
Regulatory Compliance
Product-specific tolerance limits can be defined, allowing users to comply with regulatory standards and guidelines.
Real-time Information
SQC-890 provides real-time information that allows immediate response and adjustments to avoid production problems.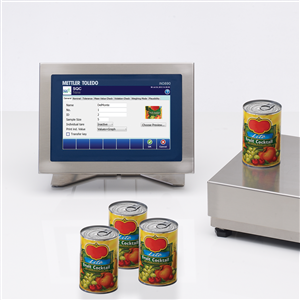 Specifications - IND890SQC-Desk
| | |
| --- | --- |
| Communication | Ethernet (Included); Optional; Serial; USB; Discrete I/O |
| Display | 10" color TFT screen |
| Housing | Stainless Steel |
| Protection Rating | IP69k |
| Material Number(s) | 22019989 |
Communication:Ethernet (Included); Optional; Serial; USB; Discrete I/OCommunication:Ethernet (Included)Communication:OptionalCommunication:SerialCommunication:USBCommunication:Discrete I/ODisplay:10" color TFT screenDisplay:10" color TFT screenHousing:Stainless SteelHousing:Stainless SteelProtection Rating:IP69kProtection Rating:IP69k
Documentation