VCODisp
Virtual checkout display
The software tool VCODisp brings more space and visibility to your sensible checkout area: with VCODisp, checkout and weighing information are displayed together on the checkout monitor, making a separate weighing display in the checkout area superfluous.

VCODisp is the perfect solution for checkout areas where precious space is limited. Checkout operators and customers profit from increased space and better visibility in the checkout area, creating a relaxed shopping experience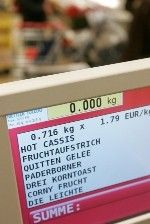 Features and Benefits
Individual design
With VCODisp, you can design the display of weighing information on the checkout monitor according to your wishes. Layout, position and color of the display can therefore be adjusted to your company's cor-porate design.


Flexible implementation
A single monitor for sales staff and customers or two separate monitors: VCODisp gives you the possibility of displaying all price and weighing information in a clearly arranged and legible layout.


Customer-friendly display
Use the unrestricted layout and design possibilities to put a spotlight on your brand with VCODisp, and opt for displaying weighing information in a customer-friendly manner – for example by using larger fonts in stores with elderly customers.


Simple configuration
VCODisp, available for Windows and Linux, is compatible with all METTLER TOLEDO DIVA checkout scales. Scales that have already been installed can subsequently be expanded with VCODisp.


Official calibration
The VCODisp solution is officially calibrated. A keypad is optionally available for zeroing and taring, adjustable next to the scale. Alternatively, you can integrate your scanner's zero key into the solution.
Documentation