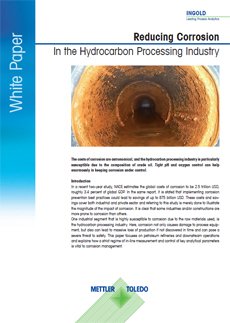 Corrosion reduction
Corrosion and fouling have a huge economic impact on operations in the chemical industry. Continuous control of process pH and dissolved oxygen (DO) are of great help, but can be difficult to achieve if sensors are not sufficiently robust.
This white paper discusses corrosion mechanisms in hydrocarbon processing and introduces METTLER TOLEDO's portfolio of instruments that help to manage and reduce corrosion. METTLER TOLEDO has a proven track record of superior performance and process-tolerant, low maintenance analytical instrumentation for the petrochemical industry. Our in-line pH and DO sensors withstand the typical process conditions of chemical processes, allowing previously impossible measurement and control in the battle against corrosion, and helping to lower costs and improve process availability.
 
This white paper shows you the role in-line analytics play in keeping corrosion under control and avoiding unnecessary chemicals consumption in chemical plants.
The most suitable pH sensor for pH measurement to reduce corrosion in hydrocarbon processing environments, is METTLER TOLEDO's InPro 4800i. The sensor has a dual- chamber reference system with a large PTFE dirt-repelling diaphragm that provide an excellent barrier against poisoning sulfides and sticky hydrocarbons.
Featuring Intelligent Sensor Management (ISM) technology, the InPro 4800i carries enhanced performance diagnostics. This means the sensor will continually self-assess and provide the user with predictive diagnostic information, ranging from re-calibration needs to remaining days of operation until replacement is due. These diagnostic tools calculate using the real process conditions at the actual measurement location. The tools help ensure that each sensor is used to its full extent without compromising on measurement reliability.
For DO measurement and control in steam condensate, process waters, and hydrocarbons METTLER TOLEDO offers advanced, low maintenance sensors with ISM diagnostics.