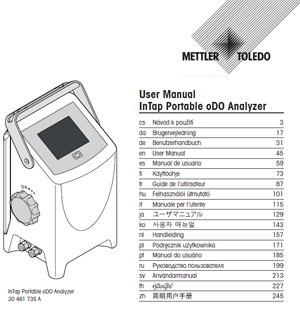 Operation Manual for InTap Portable oDO Analyzer
The InTap™ portable oDO analyzer must only be connected, commissioned, and maintained by qualified specialists in full compliance with the instructions in this User Manual, the applicable norms and legal regulations. The specialist must have read and understood this User Manual and must follow the instructions it contains.
The Reference Manual provides further information on the device and can be downloaded via Internet "www.mt.com/InTap". The InTap portable oDO analyzer should be operated only by personnel familiar with the device and who are qualified for such work.
Intended Use
The InTap portable oDO analyzer is a portable measurement device for dissolved oxygen measurement and for calibration and data logging of optical dissolved oxygen ISM® sensors (InPro® 6970 i) installed in the process. The InTap and the sensors communicate via Bluetooth. For this, the separate Bluetooth interface T100 (order number 30 432 819) has to be mounted onto each sensor.
The InTap is designed for use in the beverage industries, in non-hazardous areas. The InTap is intended to be used indoor.
The following InTap variants are available:
InTap portable oDO analyzer (metric connectors): order number 30 425 550
InTap portable oDO analyzer (imperial inch / US connectors): order number 30 457 912
User Manual for InTap Portable oDO Analyzer