Ergonomics Checklist for Laboratory
There are numerous areas in laboratory that you can reorganize to work leaner and safer.
Risk factors in laboratory are not only limited to toxic and potent substances. They include also common problems such as work-related musculoskeletal diseases of upper limbs and neck caused by overuse due to repetitive tasks, unfavorable postures and physical overload. Eye problems are also frequent in low-light or visually intensive tasks. But ergonomics is about more than safety. It is also about comfort.
Arrange your workplace so it suits you better
Some users may have special needs, such as left-handedness, color blindness or vision impairment. The goal should be enough equipment flexibility to accommodate all lab personnel so that each person can interface with it effectively.
Shape your work environment and processes to your needs by considering ergonomics before making equipment purchases or modifying work areas or tasks. Our ergonomics checklist will help you boost your well-being and optimize your performance with useful tips and techniques.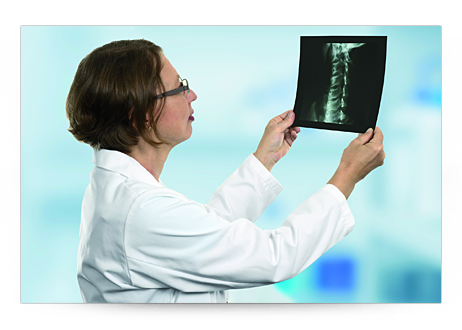 "Correct posture and ergonomic working processes help to avoid health conditions as repetitive strain injuries which are common in laboratory workers."
Barbara Bienlein, MedicalForce, Zurich
Optimize your laboratory ergonomics with our free laboratory ergonomics checklist
Ergonomics is fundamentally about how you and your colleagues interact with your work environment. This checklist will help you assess whether or not you:
perform prolonged repetitive tasks,
work in the same position for hours,
get tired eyes or eyestrain while using the computer.
Whether you work:
standing or seated
using PCs or monitors
at hoods and safety cabinets
with balances, microscopes, or pipettes, or
with toxic substances…
…our ergonomics checklist will provide you with recommendations and ideas to help you work smarter and feel better.
Take the test and say yes to ergonomic improvements and leaner work processes.