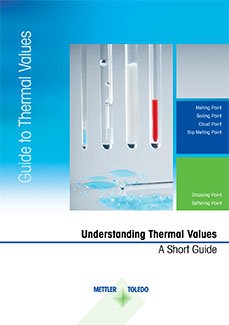 thermal values
In order to identify or assess the quality of a substance or mixture of substances, both its chemical and physical properties, such as thermal values, can be studied. In this guide, we would like to share with you the know-how METTLER TOLEDO has gained over the last 50 years in the area of determination of thermal values. We will explain the relevant techniques, as well as standards that apply to the following physical properties, along with tips and hints for assay sample preparation:
Melting point
Boiling point
Cloud point
Slip melting point
Dropping point
Softening point
If you would like more information on specific applications of these techniques, please visit our Application library.
Download the "Understanding Thermal Values" Guide and gain greater insight into the determination of thermal values.