pH Control in Copper Flotation for Maximized Product Yield
Copper ore may be separated from crude ore using a flotation pro­cess that takes advantage of the physical (as opposed to chemical) properties of small copper ore particles. To maximize the copper yield, pH control is necessary in the flotation tanks.
A typical copper operation contains many flotation cells, often with a pH sensor in each cell. The number of sensors and their locations vary from plant to plant, depending largely on solution chemistry. The challenge is choosing the correct pH sensor as well as optimizing the location of the pH sensor in the slurry. This application note guides you through pH measurement solutions that address these unique copper flotation challenges.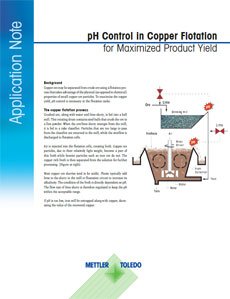 pH Control in Copper Flotation for Maximized Product Yield