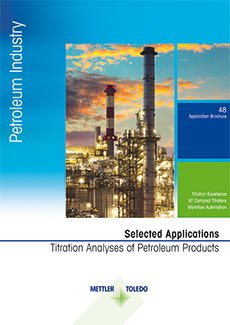 Petroleum Titration Analysis
A large portion of the world's economy depends on commerce from petroleum and downstream products. Refined petroleum products are a primary source of energy and transportation, while associated light hydrocarbons created by refining processes become building blocks for fine chemicals, plastics and performance polymers for countless daily applications.
Analyzing the chemical makeup of petroleum products is fundamental to guaranteeing their performance and quality. Titration analysis is a key laboratory technique for measuring parameters such as acid number, base number, bromine index, water content or mercaptan content. 
This collection of petroleum titration analyses provides best-practice titration laboratory methods for key parameters including:
Acid and base numbers
Bromine analysis
Mercaptan content
Water content via Karl Fischer
And more
The comprehensive 91-page guide (PDF) provides complete information needed to benchmark and improve your titration analyses:
ASTM and other test references
Sample preparation procedures
Chemistry
Reagents, instruments and accessories used
Titration analysis method details
Results data, tables, remarks