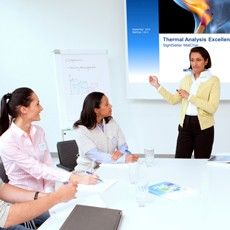 Basic hands-on course in thermal analysis software (German)
In this course we introduce the concept of STARe software, coupling an integrated database with a knowledge base for endless evaluation possibilities. The workshop will guide you through all the basic functionalities offered by this unique TA software.
Training program:
STARe Software concept
Install window
Module window
Method window
Routine window
Experiment window
Evaluation window
Calibration
FAQ
March 23, 8.30 to 17:00 (DE)

March 23, 8.30 to 17:00 (DE), CET

Mettler-Toledo GmbH, Im Langacher, 8606 Greifensee (Switzerland)
Course language: German
Course fee: 675.- CHF
Course fee includes lunch.