4 Ways a Service Program Benefits Your Scale
If your truck scale goes down, quite often your business goes down with it. Discover how a custom service program using a trusted service provider can be a cost-effective way to help you keep your operations up and running.
Learn more about how our truck scale service offerings keep you up and running.
 Improve Uptime and Productivity
Productivity means getting the most out of your equipment and processes. To keep productivity as high as possible, you must have working equipment. Reducing the chance of a breakdown at your scale helps to maximize uptime, increasing your daily throughput. Preventive Maintenance Services include a thorough inspection of the weighbridge, load cells, cables, and foundation. If minor adjustments are needed, our technicians take care of them the same day.
Meet Legal-For-Trade Requirements
Advanced Vehicle Calibration Services provide all the necessary tests and data points to satisfy an auditor or Weights and Measures officer and provide the highest level of calibration accuracy. Our metrology expertise will help you not only pass audits but also measure with true accuracy to save money and keep your customers happy.
Control Maintenance Budget
Paying for service one invoice at a time can cause you to lose track of your maintenance budget. Our Service Care Packages help you control your budget by paying one set price to cover just what you need. Choose from Standard Care or Comprehensive Care and benefit from one invoice, complete control, and absolutely no hassle.
Extend Scale Life
Many operations own vehicle scales that could use a boost in accuracy and reliability but that are not in such bad shape that they need to be replaced. METTER TOLEDO Upgrade Kits bring new life to your existing equipment by updating to the latest load cell technology and installing new cabling. This can add years to the life of your existing weighbridges.
In summary, METTLER TOLEDO Service has you covered! Whether you have existing equipment, new equipment, or another manufacturer's equipment, we will create a service schedule to fit your unique needs and set your operation up for success.
Other Related Content
Products and solutions from the global leader in truck scales/weighbridges and load cells.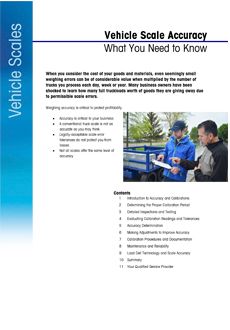 Don't take the accuracy of your scale for granted. Standard certifications only offer limited protection from weighing errors, and even small inaccuracies can add up to large losses over time. Learn what affects the accuracy of vehicle scales, from scale technology to the weighing environment, and what you can do to protect the measurement of your goods.

Stay up-to-date with industry developments - explore our comprehensive library of the latest service literature, brochures and downloads.