Laboratory pH Buffer
Certified pH Buffers for Calibration to Ensure Compliance and Traceability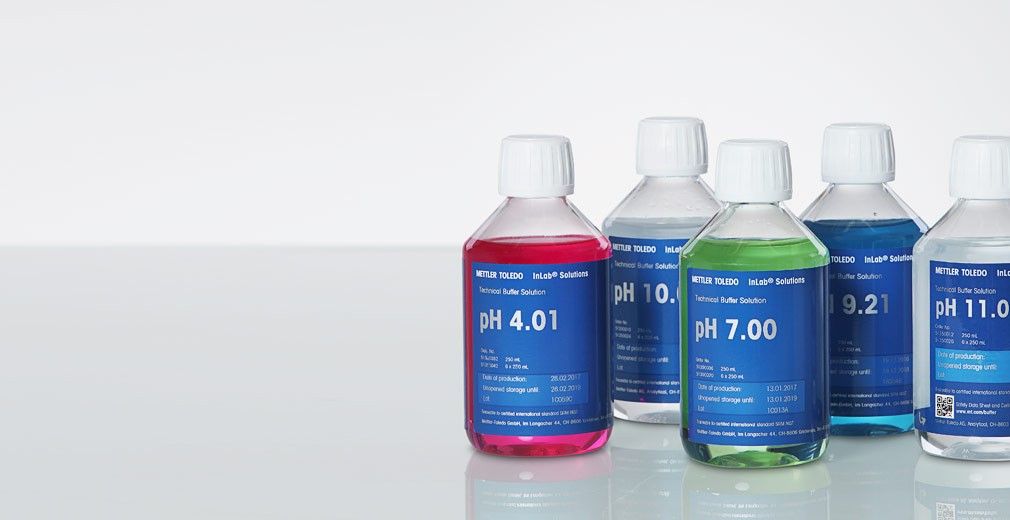 Quality Data Begins with Quality Buffers
pH measurements are only as accurate as the pH buffer solutions used for calibration purposes. METTLER TOLEDO offers a selection of quality pH buffers to match your specific requirements. We guarantee maximum precision with NIST/DIN buffers and our test certificates ensure compliance and traceability. No matter if you look for technical buffers or buffers that are certified by an accredited body, you will find the right solution.
Test Certificates
To guarantee maximum traceability, an individual test certificate exists for every batch of buffer solutions. It can easily be downloaded and printed for documentation purposes.
Download your certificate here
Compliance with GHS
Remaining compliant with regulations is important. All of our SDS (Safety Data Sheet) and labels contain information according to GHS (Global Harmonized System) in local languages.
Download your SDS here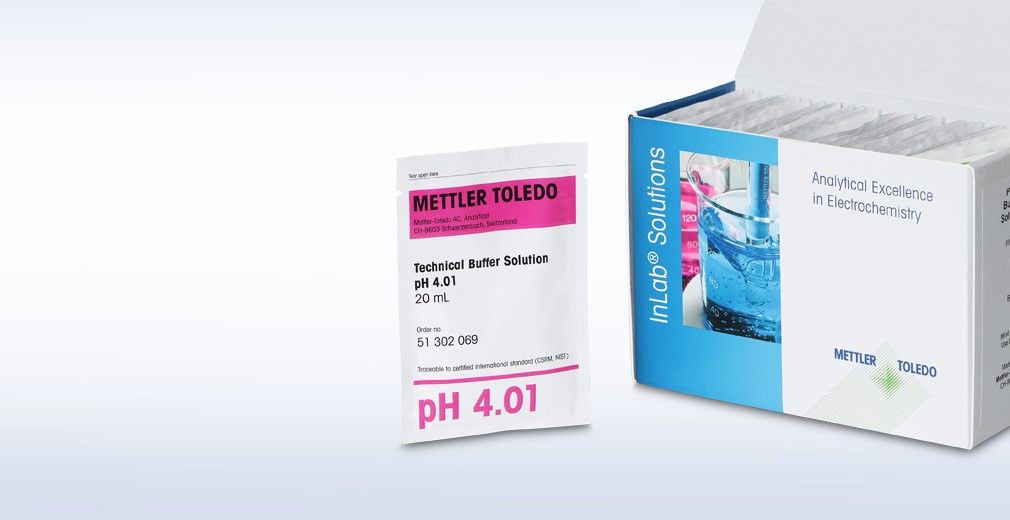 Small Volume Packaging
Using our sachets guarantees fresh solution for every calibration as well as maximum ease of use. Every sachet box comes with a printed certificate. Rely on METTLER TOLEDO's expertise to meet your specific needs.
GEP - Good Electrochemistry Practice
Quality data begins with quality buffers. Buffers that have been exposed to air and contamination can cause pH values to gradually change, making calibrations less accurate. Follow our Good Electrochemistry Practice hygiene tips to ensure your pH system is in good health.

Discard Expired Buffer
The expiry date indicates until which date the certificate guarantees the value and the associated measurement uncertainty. After this date the uncertainty cannot be guaranteed.
Fresh Buffer
Use a fresh aliquot of buffer for each calibration to ensure no contamination enters the bottle. Do not calibrate directly in the solution bottle.
Correct Quantity
Use enough buffer for accurate calibrations. The sensor should be submerged in the solution in order to achieve the most accurate results.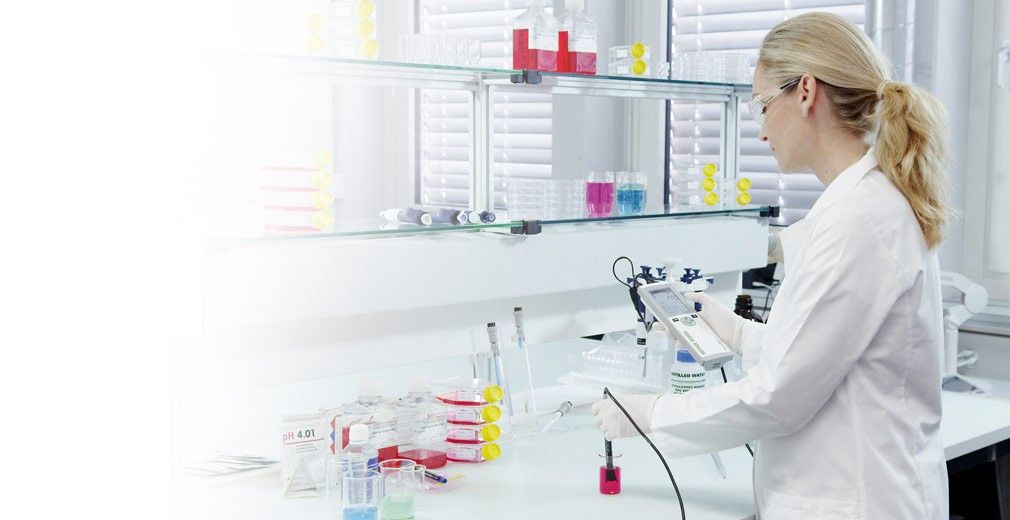 Complete Electrochemistry System
pH measurement does not depend only on your pH meter. All components in your system must be working at their best to provide reliable results.
Ensure your electrochemistry system is complete by choosing the right sensor, solutions and installation services for your specific needs.

Meters
To fit your electrochemistry system needs, we offer a variety of benchtop and portable meters that are professional and durable. Our portfolio offers products designed for compliance, routine measurements or anyone working on a tight budget.
Benchtop Meters
Portable Meters
Sensors
The complete InLab® sensor portfolio covers the whole scope of pH applications. These range from routine measurements to specialist applications. To find your perfect match, visit our Sensor Product Guide today for an interactive way to the right sensor
Sensor Product Guide
Service
We offer different service packages depending on your needs. These range from professional on-site installation and configuration to documented proof of compliancy. If full coverage beyond initial warranty is desired, we offer an extended care package in the form of preventive maintenance and repair.
More about Service
Products and Specs
Documentation
Competence

The accuracy of pH buffers is essential for a proper calibration, and hence to assure the reliability and quality of pH measurements. A comparison stu...
FAQ
How can I optimize the use of my pH buffers?
The quality of a solution is only guaranteed for unopened bottles that have not yet expired. The following tips will help optimize the use of pH buffer solutions after opening and while in use in the laboratory. Fresh calibration solutions minimize the measurement uncertainty and thus optimize the reproducibility of results:
Note the date on the bottle when the pH buffer is opened for the first time.
Keep the bottles sealed tightly at all times
Never pour dispensed pH buffer solution back into the original bottle.
Ensure that bottles containing are not contaminated.
Replace pH buffer solutions that have reached the expiry date or may be contaminated.
Where can a certificate or a material safety data sheet for solutions be obtained?
The certificates of all calibration solutions and many electrolytes can be downloaded at www.mt.com/buffer. The respective material safety datasheets are available at the same place.
What is the difference between Technical, NIST/DIN and Certified pH buffer solutions?
Technical buffers:
This pH buffer solutions come with a certificate from METTLER TOLEDO. Precision is ± 0.02 pH units.
NIST/DIN buffers:
Buffers prepared according to the recommendation of the National Institute of Standards and Technology (NIST) and the German Institute for Standardization (DIN). They also have a certificate from METTLER TOLEDO. Precision is ± 0.02 pH units.
Certified buffers:
Selection of  pH buffers that are verified and certified by an independent laboratory (DKD = Deutscher Kalibrierdienst = German Calibration Service). Precision is ± 0.02 pH units.
What are the tolerances of our pH buffers?
DIN/NIST pH buffers ± 0.02 pH units

DKD buffers ± 0.02 pH units

Technical buffers ± 0.02 pH units
What calibration points should I use?
Calibration should cover the range of the desired measurement values. The most common pH sensor calibration method is two-point calibration.
Should pH buffer 7.00 be included in every calibration?
It is not necessary to include pH 7.00 for calibration according to the US and European pharmacopoeia (USP and EP, respectively). But if the calibration is done in compliance with the Japanese Pharmacopoeia (JP), then pH 6.86 buffer (phosphate) is mandatory. For calibration according to EP, only pH buffer 4.01 (phthalate) is compulsory.
If not working according to any regulation, the principle is easy: For calibration, only those buffers are needed which bracket the pH range of your samples. For example in a quality control where every sample should have pH between 3.5 and 3.8, a 2-point calibration with pH 2.00 and 4.01 is sufficient. There is no need for calibration with pH 7.00 in such a case.