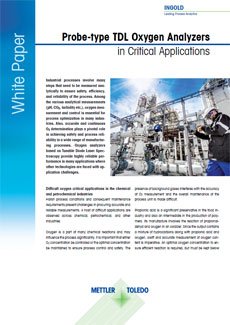 Gas analytics in chemical industry
Tunable diode laser (TDL) oxygen analyzers are rapidly replacing paramagnetic and other analyzer types in safety-critical applications. TDLs are installed directly in the process pipe or vessel, and do not require sample extraction or conditioning equipment. This means response time is very low. The GPro 500 TDL has a t90 of 2 seconds. Extractive paramagnetic and electrochemical analyzers can have a response time that is ten times longer: putting safety at risk if O₂ levels start to increase.
As explained in the white paper, speed is not the only asset of the GPro 500. Unlike other TDLs that are comprised of two units, laser source and receiver, the GPro 500 is a single unit with a probe attachment. The probe contains a corner cube that directs the laser light back to the receiver. This means installation is simpler, and misalignment between source and receiver never happens.
Other than occasional cleaning of its optics and annual verification, the GPro 500 requires no maintenance.
The GPro 500 is also highly selective to oxygen, regardless of background gas mix that cause interference in other analyzers.
In addition, the GPro 500 provides accurate oxygen measurements even if 80% of the original signal intensity is lost due to dust in the process.

The GPro 500 offers fast, reliable, continuous O₂ determination in flare system, CO boiler, vapor recycling, waste incinerator and other processes where safety and process reliability are key considerations. 
Highlights of the white paper include:
Performance issues with extractive analyzers
TDL selection considerations
Advantages of in situ measurement with the GPro 500